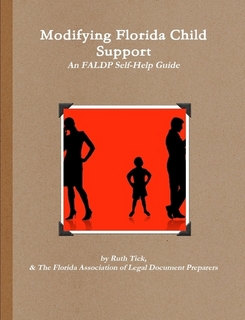 "Modifying Florida Child Support"  
  Buy Now on Lulu.com
E-Book $12.99

Paperback - $26.49
An FALDP Self-help Guide to modifying your Florida Child Support. It includes: forms, author's comments, line instructions, case progression checklist, and an Appendix. If you live in Florida; have a Florida child support order; and need to change the amount that you owe -- either upward or downward -- this guide is for you
---

"Child Support Petition Answer Book"
Buy Now on Lulu.com
E-Book $15.99

Paperback - $25.99
The essential FALDP Self-Help Guide for those who have been served with a Petition for Support. This Self-Help Guide is easy to read and understand, provides sample forms, cites statutes, and includes common questions and answers about child support. 78 pages

"You've Been Sued! Preparing an Answer to a Civil Law Suit in Florida"

Buy Now on Lulu.com
Paperback - $19.95
E-Book - Available as part of our online course - Debt Defense.

This FALDP Self-Help Guide is a vital resource for any Floridian who has been sued in civil court and intends to "go pro se". FALDP, the Florida Association of Legal Document Preparers strives to educate consumers about their rights to access the legal system.
---

"Family Adoption in Florida"
Buy Now on Lulu.com
E-Book $19.99

Paperback - $36.99
Our FALDP Self-Help Guide, includes information about procedure, laws, and forms for adoptions in Florida by Grandparents, Stepparent, and other close relatives.