---
Stepparent Adoption
Stepparent adoptions are governed by Florida Statute Chapter 63
---
Document Preparation Service Through FALDP
---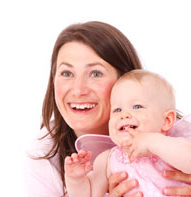 Stepparents who adopt their stepchildren are special. Like other family adoptions, adoptions by stepparents are done with the best interests of the children held high. As it should be.

When all parties agree, the process for stepparent adoptions in Florida is fairly simple. Sometimes the biological parent is not available to consent to the adoption. Other times the identity of the biological parent is not known. In either of these cases, the process is slightly more complex, but not at all impossible for a pro se litigant.
Part of the stepparent adoption process is to terminate the parental rights of the biological parent. Termination of parental rights is never to be taken lightly. The biological parent being asked to terminate parental rights should search their heart, and seek legal advice if at all unsure about what to do.

---
If All Parties Agree
---
If all parties agree, it is simply a matter of completing the proper forms properly. Then those forms are filed with the clerk of court. At the time of the initial filing the joint petition for adoption is filed along with the Consent and Waiver by Parent. After the paperwork is entered into the clerk of court's system, then the couple seeking the adoption can request a court hearing.
---
If a Biological Parent's Whereabouts is Unknown
---
If a biological parent's whereabouts is unknown, the party seeking adoption must conduct a search for the parent gone missing. The Affidavit of Diligent Search is a list of places where they must search for the biological parent. The list includes things like:

Prisons
Hospitals
Military
An internet search
U.S. Post Office; etc.
---
Whether to "Go Pro Se"
---
Some people are perfectly comfortable completing the legal forms published by the Florida Supreme Court for pro se litigants. Other people become instantly confused and overwhelmed.
Most people are somewhere between the two extremes. We, at the Florida Association of Legal Document Preparers support you. We are here to help. We cannot provide legal advice, and we cannot represent you in court.
But we can certainly help you by preparing the forms for you. You provide us with the information, and we prepare the forms.
---
Stepparent Adoption Document Preparation
Buy Now - $299.00 - Google Checkout
When you pay for document preparation services you are acknowledging that you have read and agree to the
FALDP Disclaimer
and
Nonlawyer Disclosure
displayed elsewhere on this site. Within 24 hours of receiving your payment one of our representatives will call or email. If you contact us on the weekend, we will contact you on Monday. We'll set up a time to speak on the phone with you to find out the information needed to complete the documents.
---
Browse our questions and answers. You may find an answer you're searching for. If you know the answer to a posted question, please share your information with others. We invite answers from consumers, attorneys, and legal document preparers. If you post an answer, please include your source of information.
---
Comments
Post your comments to any of the questions posed on this page.
What Other Visitors Have Said
Click below to see contributions from others...

Father wants to give up parentals to me but courts said no way
The father of my daughter wants to sign up his parental rights for our daughter, beacause he can no longer pay for child support for our child. He has …
I want to adopt my granddaughter.
Hi, I hope you can help. I want to adopt my granddaughter. She has been living with us since she was born, and she is now almost twelve. No one is against …
Granddaughter Adoption
I am trying to adopt my wonderful granddaughter. I am her grandfather. She has been living with me since she was 8 years old and now she is 15. What …
Grandparent Adoption.
My husband and I want to adopt our two granddaughters. They have lived with us pretty much their whole lives. Our daughter (the mother) and her ex are …
I want to adopt my grandaughter.
Hello, I hope you can help. I want to adopt my 8 year old granddaughter. She has lived with us since she was 2. The father, my son, is fine with us adopting …
Adult Adoption
Hello, I'm trying to find the forms for an adult adoption. I've been all over the Florida Supreme Court's site, but the only form they have there for …
I want to adopt my granddaughter, but I can't find the forms.
Hello, My husband and I want to adopt my eight year old granddaughter. Her mother, my daughter, is in agreement. We don't know where the father is. I …
Adoption.
What are the forms needed for family adoptions in Florida? Do I need special forms because there are multiple children? Is each child a separate filing …
Adoption
What forms are needed to file for an adoption in Florida? What are the laws for an adoption in Florida?
Stepparent Adoption
My ex-husband and I divorced shortly after our son was born. He did not show for Court, so the judge stated he had no visitation rights until he completed …
Adult Adoption
I believe I've found all the forms I need for an adult adoption. I'd like for my stepfather to adopt me. I just want to make sure I have all the correct …
Stepparent Adoption
My daughter is five years old and has never met her birth father. He has been in prison since her birth. He has two different children that he has given …
adoption
Grandparent adoption in Lee County, Florida. How do I go about adopting my grandchild? I've found the forms online for a stepparent adoption, but I can't …
---
800-515-0496
Call Toll Free
Or complete the form below, if you prefer. Our experienced and knowledgeable staff will be pleased to assist you.
Remember - we are not attorneys and do not provide legal advice.
---