Stepparent Adoption

is governed by Florida Statute Chapter 63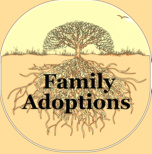 Stepparents who adopt their stepchildren are special. Like other family adoptions, adoptions by stepparents are done with the best interests of the children held high. As it should be.

When all parties agree, the process for stepparent adoptions in Florida is fairly simple. Sometimes the biological parent is not available to consent to the adoption. Other times the identity of the biological parent is not known. In either of these cases, the process is slightly more complex, but not at all impossible for a pro se litigant.
Part of the stepparent adoption process is to terminate the parental rights of the biological parent. Termination of parental rights is never to be taken lightly. The biological parent being asked to terminate parental rights should search their heart, and seek legal advice if at all unsure about what to do.
---
If All Parties Agree
---
If all parties agree, it is simply a matter of completing the proper forms properly. Then those forms are filed with the clerk of court. At the time of the initial filing the joint petition for adoption is filed along with the Consent and Waiver by Parent. After the paperwork is entered into the clerk of court's system, then the couple seeking the adoption can request a court hearing.
---
If a Biological Parent's Whereabouts is Unknown
---
If a biological parent's whereabouts is unknown, the party seeking adoption must conduct a search for the parent gone missing. The Affidavit of Diligent Search is a list of places where they must search for the biological parent. The list includes things like: Prisons; Cable Companies; Utility Companies; Hospitals; Military; an Internet Search; and the U.S. Post Office.
---
---