Click to Call for Mobile Users - 800-515-0496
Affordable Non-Lawyer Services, LLC
Affordable NonLawyers Services (ANLS) is open to meet the needs of our clients with about any legal document preparation at an affordable price.  Legal forms can be intimidating if you are not familiar with it.  Here at Affordable NonLawyer Services (ANLS), you could count with experienced and dedicated document preparers that will draft your legal documents based on your verbal and/or written specification.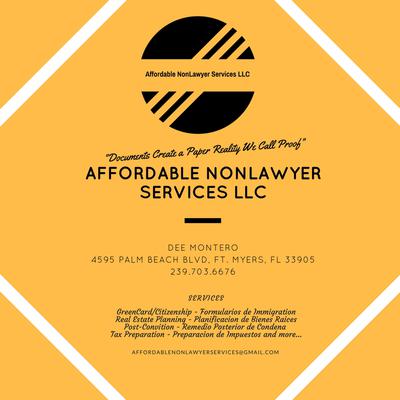 Affordable NonAttorney Services (ANLS) excels in the quality of its service, is inexpensive, and aims to earn the confidence of its customers.  Our future prosperity is directly linked to the prosperity of our customers, which is achieved with respect and communication so our customers can be fully informed throughout the process.

We are located at:
4595 Palm Beach Blvd, Suite 2 (next to post office - al lado del correo)
Fort Myers, FL 33905
Phone: (239)208-2925
Website: https://affordablenonlawye.wixsite.com/anls
Affordable NonLawyer Services are non-attorney legal document preparers and therefore CANNOT give legal advise.  The purpose is to provide legal document preparation services at a a reasonable price.