Touch to Call for Mobile Users - 800-515-0496
FALDP Foundation, Inc.
The stated purpose of the FALDP Foundation, Inc., a Florida non-profit corporation, is: .
Prepare routine legal documents for low income/indigent consumers; educate consumers about the legal system through written publications and online courses. Services and courses to be no cost, low cost, or offered on a sliding scale. 
Document Preparation Services - Low Cost or No Cost
Even though there is a a process to have court filing fees waived through the civil courts, many consumers also struggle to pay for any document preparation assistance. Our document preparation fees are low as it is. In many cases, document preparers fees are approximately 10% of what an attorney may charge for similar document preparation services. (Bearing in mind, that our services do not include legal advice or representation.) 
As we raise funds and receive donations we will offer document preparation services to consumers who cannot afford document preparation fees and/ or court filing fees. FALDP members will be paid for these services through the FALDP Foundation to prepare the documents for these consumers who need our help. This way our members are not asked to waive document preparation fees, but will be paid. The consumer benefits and the document preparer still earns their fees. 
FALDP members may refer a consumer to our FALDP Foundation for assistance. These fee waivers will be based on economic need, an Order of Civil Indigent Status may not be required. We believe that the courts are sometimes unfair and capricious in denying applicants indigent status. We have also learned that the legal aid societies turn away more people than they help. The very low income guidelines for almost all of the legal aid societies makes it so that almost anyone who has any sort of job ineligible for legal aid services. 
Request for Document Preparation Services
Online Courses for Consumers - Low Cost or No Cost
We intend to create online courses for consumers to educate people about the legal system. These courses will include information about Florida courts, civil process and procedure, civil rights, and legal research. These courses along with the articles on our site serve to arm consumers with the knowledge that they need to navigate the court system. 

DONATE ANY AMOUNT
We hope that consumers who have used document preparation services will open their hearts and wallets to help others who cannot afford our services. 

Free T-Shirt with Donation of $10 or More
We appreciate your donations! As a thank you for any donation of at least $10, we're offering a free FALDP T-Shirt. (Shipping included). T-Shirts are 100% cotton; supplies are limited. After making your donation, please return to this page to submit your request for your free T-shirt, shipping information, and size. You can choose any color shirt, as long as its white.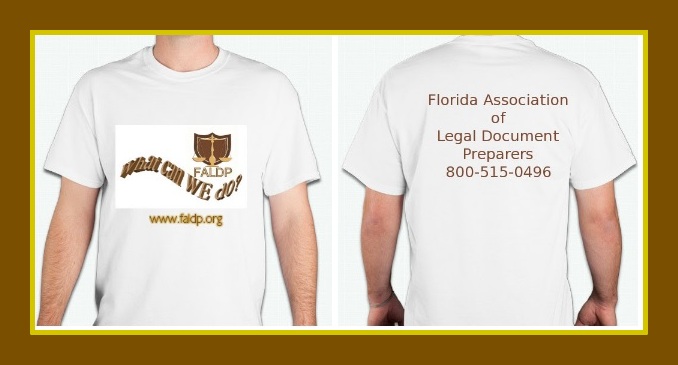 Below is the close up of the design. Come on - represent FALDP - ask the world "What Can WE Do?"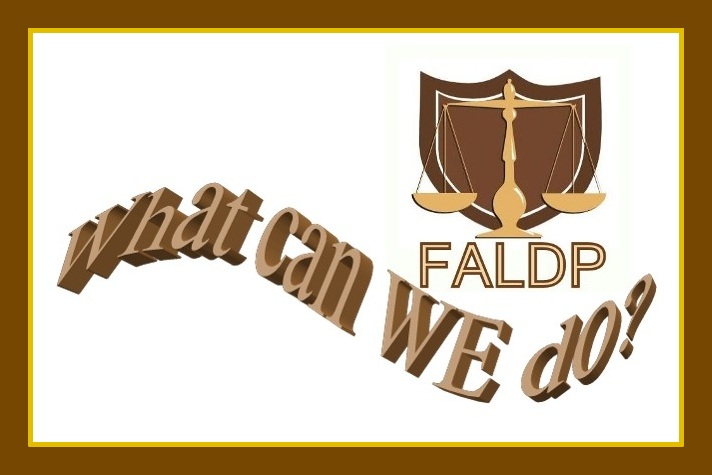 Follow us on Facebook!