Jgs document preparers & notary services
Junelly Jimenez Sebastiano ~ 305-903-3461 ~ JGS.docpreparers@gmail.com 

Our primary goal at JGS is helping Pro-Se Litigants or parties representing themselves in court by completing immigration forms and prepare packages for submission to USCIS. A professional legal document preparer can deliver reliable services at affordable rates. It gives you the peace of mind that your legal documents will be completed without the pressure of paying high and expensive hourly attorney fees.
I am not an attorney, I am a legal document preparer. And what that means is I can prepare legal documents, explain procedure, and give you legal information, but I cannot offer advice or representation
If there is a form that you know you need, and want to know if we are able to assist you in its preparation, please contact us.
HABLAMOS ESPAÑOL

Y PODEMOS TRADUCIR CIERTOS DOCUMENTOS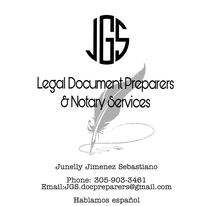 Copyright 2010-2023 ~ All rights reserved.