VIII. FAMILY LAW FORMS
Except as indicated below, the requirement that Florida Family Law Forms be notarized or signed in the presence of a deputy clerk remains suspended, if the filer includes the following statement before the filer's signature:
Under penalties of perjury, I declare that I have read this document and the facts stated in it are true.
This exception does not apply to Florida Family Law Forms 12.902(f)(1), Marital Settlement Agreement for Dissolution of Marriage with Dependent or Minor Child(ren), 12.902(f)(2), Marital Settlement Agreement for Dissolution of Marriage with Property but No Dependent or Minor Child(ren), 12.902(f)(3), Marital Settlement Agreement for Simplified Dissolution of Marriage, and any other family law form that transfers the ownership of property, which must continue to be notarized or signed in the presence of a deputy clerk prior to filing.
This measure initially took effect on March 24, 2020. (AOSC20-17) and is now set to expire on May 29.
******
Document preparers please note, many of the family law forms do not need to be notarized during this pandemic, providing the required language is present.
******
Moratoriums on Evictions and Foreclosures - Beware the Unintended Consequences
Due to the coronavirus, moratoriums on residential evictions and foreclosures have been temporarily put in place. However, even if you are allowed to skip payments, or your landlord is not allowed to evict you -- payment will ultimately become due. If at all possible, before you miss a payment, have a talk with your lender or landlord and find out what your real options are, and what you need to carefully consider.
For example, will your landlord expect all back payments at once as soon as the moratorium is lifted? Or will he let you make up the missed payments incrementally over time? What is your mortgage company's definition of forebearance? Are they willing to extend the duration of your mortgage so that you can add missed payments to the back end? Or, do they expect you to make double payments once the moratorium is lifted? Huge difference. Make sure you know what you're in for.
---
Click Wrap Agreements
You might not know the names for this type of contract, but you've entered into one of these thousands of times. Click Wrap Agreements, aka Click Through Agreements and Click Through Contracts are those Terms of Service boxes that you click when you use online services or pay online. Whether or not you accept payment on your site, you may want to add this feature to your site, here's what you need to know:
1. Users must give active affirmative consent
Click through agreements (clickwraps and sign-in-wraps) must require the user to actively click "I agree" to the terms of service (ToS) before they can proceed with their requested services. To enhance enforceability, design the site to prevent the user from proceeding without giving active consent.
2. Give reasonable and prominent notice of your terms of service (ToS)
Clickthrough agreement terms of service need to be displayed prominently. Users have the responsibility to inform themselves of the terms before clicking "I agree." In situations where the user has consented, but has not actually read the ToS, they're said to have constructive knowledge. This is the benefit of providing the ToS in a way that a reasonable person would be able to access and read.To enhance enforceability the site should have the words "Terms of Service" written in a font and color that allows the reader to identify that they should click the link or read the scroll box to understand their rights as consumers to this site. The terms themselves should be written in a font that allows the user to easily read the language. Prominent notice of your terms is necessary for the enforceability of your online legal agreements.
3. Clickwrap agreements should be digestible to the average person
Your users are at an inherent disadvantage when it comes to understanding your ToS. You cannot assume they can understand legalese or tech talk; if you do, your terms may not be enforceable.Terms of service and other online legal agreements need to be written in a way that someone without a legal background can read, comprehend, and give informed consent to. The agreement should contain all the terms that the users is charged with knowing.
4. Do not exploit unequal bargaining power
Your users only have the option to click agree or leave the site. You cannot use this advantage to take more from the user than necessary. Abuse of power can lead to a clickwrap agreement being deemed unenforceable. In contract law unequal bargaining power (contracts of adhesion) is frowned upon. However, even with the lack of bargaining power eCommerce TOS are typically enforceable if they clearly list the requirements for use of the site, and avoid demanding the user to give up too much in order to use the site. Clickwrap agreements will typically be "take it or leave it" but they cannot be "we take all and you leave with nothing."
5. Specific consents must be distinguishable from the rest of the document
Do not bury controversial terms of an agreement. For example, if your business plans to appropriate a user's personal information for marketing purposes, you should request consent for that purpose in a manner that is distinct from the rest of the ToS.Hidden consents can come back to haunt site owners who cannot enforce the ToS in whole or part because of the formation of the terms. The clearer and more distinguishable the terms and consents are, the more likely an agreement will be enforceable.
FALDP Webinars
We intend to continue hosting webinars for FALDP members. We do not yet have a topic for our next webinar which is tentatively scheduled for Saturday, June 6 @ 11:00 am. We're asking our members for suggestions for our webinar topic. In the past, we've held webinars on:
Best Practices

Certification

Family Adoption

Foreclosure

Marketing & Sales

Parental Responsibility Documents

Post Conviction Documents

Pro Se E-Filing

UPL

Taking your Business to the Next Level
and most recently - Doing Business in the Time of Coronavirus; and Making the Most of Your Membership.


If you would like us to host a webinar on any of the above topics or have another topic to suggest, please send us an email. staff@faldp.org .


---
RON Certified FALDP Members
If you are RON Certified, sign up for the Directory. We need to give consumers more choices. At the moment, we only have five members who signed up. I'm sure there are more of you.
Sign up for the RON Certified Directory is in the Members Only area. Please wait until you're ready to notarize documents online before submitting your sign up form to us.
---
New Private Facebook Group
So many people who were not FALDP Members were asking to join the FALDP Members FB group, that we started a new group. Its called Florida Pro Se Help It is open to pro se litigants and document preparers alike. But, it is not meant to be a commercial group, just people helping people. Pro se litigants are very confused about courthouse closing and procedure. And, most do not have the ability to search out the information they need.
---
Don't forget to SUBSCRIBE!
We have a growing list of videos on our channel - FALDP on YouTube They are meant to explain, inform, and advertise our services. Please take a look, make a comment, and help us spread the word about our members' services.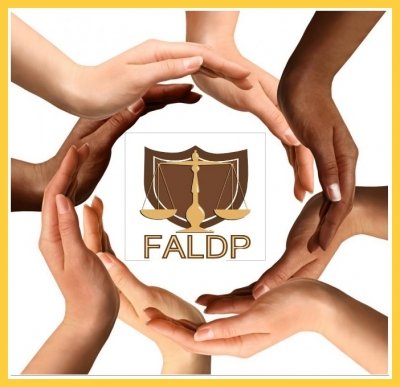 ---
FALDP Certification
Members receive information about the FALDP Certification process in their Welcome Package when they join. Our FALDP Certification is 100% voluntary, and is meant to allow members to show consumers that they are serious about their business, and have gone the extra mile to distinguish themselves. Only members in good standing who have completed the certification process are allowed to display the FALDP Certified Badge.



Attention FALDP Certified members. Don't forget to provide us with your list of completed CEUs so that you can maintain FALDP Certification. This list is due no later than July 31. Completing 10 CEUs is the only requirement to maintaining FALDP Certification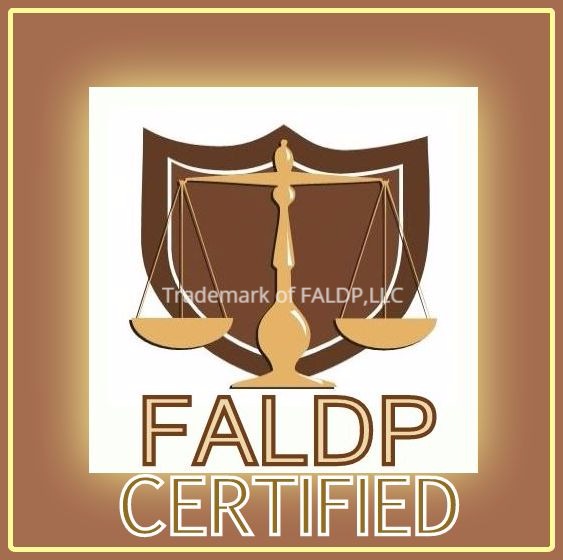 Are you FALDP Certified yet? If you've already earned your certification, remember to keep track of your CEUs so that you can maintain certification. There are many ways to earn CEUs:
Take FALDP online courses - CEU'S vary

Join the FALDP private Facebook Group One CEU

Become an affiliate for our FALDP endorsed Parenting Course One CEU

Answer questions/ comments in the Ask the Members' Forum One CEU for every three answers

Attend our annual conference Five CEUS

New Sign up for the Virtual Providers designation (inside the Members Only pages)One CEU

Sign up for the RON Certified Directory- One CEU

Attend our webinars THEY'RE BACK! One CEU for each webinar attended.

These are just a few ways to earn CEUs to apply for or maintain certification. Complete Certification Information information is on our site. To take the exams and apply for FALDP Certification go to the Members Only pages.
FALDP Membership is your first step to Certification.
---
FALDP Logo Display Guidelines
We are issuing Video Logos to members when they join or when they renew membership. The Video Logo is the only proper way to display the FALDP logo on your website, in social media, and in any online advertising.
According to FALDP's logo display guidelines, members who have a website are required to display the FALDP logo on their site. The size should be large enough for people to read, something around 400 x 400 pixels. And remember to consider people who may view your site on their phone. Size matters. This video logo helps consumer verify FALDP membership, and also gives more explanation as to what FALDP is all about.
We have been phasing this in for several months, beginning with new members, and now we're providing members with the FALDP Video logo upon membership renewal.
We realize that not everyone has received their video logo yet. Please bear with us. Members may continue to use the static logo on their site, while waiting to receive their video logo. And the static logo can always be used on print advertising, letterhead, business cards, etc.
---
Parenting Course Affiliate Opportunity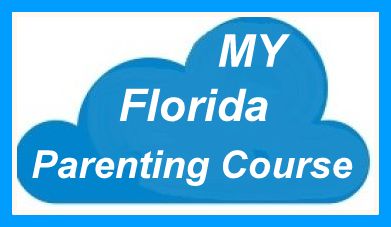 Our Parenting Course Affiliate Program is here. All FALDP members who refer divorcing/ separating parents to our FALDP endorsed Parenting Course can participate. No need to sign up. Consumers pay $29.99 or $14.99 for low income and indigent. Referrers receive $3.00 for every full pay referral, and $1.50 for low income/ indigent referral. When consumers enroll in the course, have your customers enter your name as the referring party, and keep track of who you referred. Send us an invoice by the 10th of the month for all referrals in the previous month, and we'll send you your affiliate compensation. We can send payment through Google Pay or Paypal only. And, remember it is up to you to send us an invoice or request for payment. Simple?
When your affiliate income reaches at least $15. we'll let you know, so that you can request payment.
---
Reminders
Business presence in Florida
Don't forget to renew your Limited Liability Company. Notices went out from the Division of Corporations already. You have until May 1 to renew without penalty.
Business presence in Florida - Members who are not physically in Florida are required to maintain a business presence in Florida. This means if you are physically located out of state, you must either form a Florida corporation or Florida LLC, or register as a foreign entity.
Mandatory Course - Avoid UPL! - To be taken annually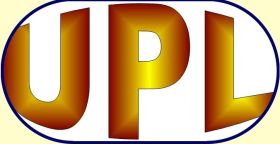 Most members have completed this course by now. If you have not yet taken this course, please do so as soon as possible. This is a Members Only course. If you did not purchase this course when you joined, you can register for it inside the Members Only area. Members who have not completed this course between August 1, 2019 and July 31, 2020 may be suspended. Suspension means that your information will be removed from the Member Directory and you'll be required to remove the FALDP logo from yur advertising. Members are required to take this course every year. It is your responsibility to let us know you've completed the course by taking the quiz, completing the essay, and/ or submitting the exit survey. If you have any question as to whether you completed the course - contact us. This course was designed to protect our members from falling into the vast sea of nothingness and confusion, also called a UPL investigation.
---
Ruth Recommends:
Apache OpenOffice
OpenOffice is a robust program comparable to Microsoft Word. It is also FREE. You can get it here: open office download
Foxit PDF Program
I highly recommend Foxit Reader as a free alternative to Adobe Acrobat. One of the best features (besides that its free) is that the typewriter allows you to type into most PDF documents, even though they're not fillable.
Parenting Course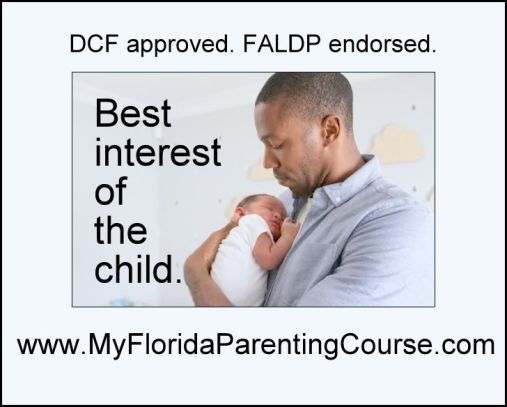 Parental Education and Family Stabilization Course is mandatory for all divorcing couples who have children; and all people seeking a paternity action. The cost is $29.99 and $14.99 for indigent.Here's the link directly to the - Parenting Course
Private Investigation Services

Do you or your document preparation customers need help from a Private Investigator: Dan Womack can help with locations for child support, missing spouse, and other services. Dan is a licensed Florida Private Investigator and a former FALDP member. Contact him directly Womack PI Office: (772) 672-4844
Fax: (772) 672-7130

Don't have a site yet? Try Monarch Web Strategies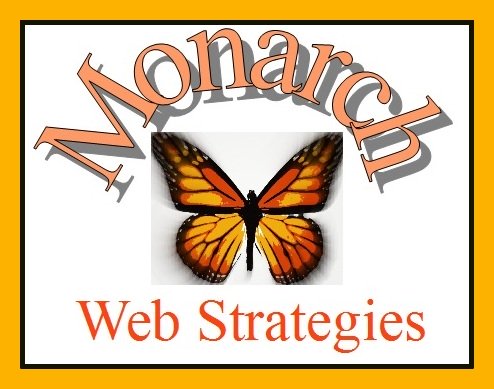 Horizon Research Network is one of our associated sites which includes our design services. We build business websites for FALDP members for only $500, which includes your domain name and first month's hosting. And, have you seen our whiteboard videos online?We can create a custom whiteboard video to promote your business. Once built its yours to use in any of your advertising or promotions. Contact us for a custom quote.
---
FALDP Private Facebook Group
---
About one third of our membership has joined the FALDP private Facebook group. We created it to make it easier to interact with each other. So far, people have given work referrals to one another; asked questions to the group; received help in locating a form; and discussed various issues. If you're working toward FALDP Certification, you earn one CEU just by joining the group. So, what are you waiting for? Look for the private group after going to the official FALDP Facebook page at FALDP,LLC on Facebook.
---
Member's Announcements & Contributions
Have something to share?
We accept member's announcements and appreciate your contributions. If you have an announcement about your business, an expansion of services, moving your offices, or winning awards, please send us the information and we'll include it in our newsletter. Your announcement needs to be pertinent to your business, we are unable to include announcements about other trade associations, clubs or groups.

If you would like to write an article, editorial, opinion piece, or web page please let us know. We are always in need of fresh information and insights.
---
FALDP Contact Information:
Main number – (941)237-0951
Toll free - (800)515-0496
Email – staff@faldp.org



PLEASE LINK YOUR SITE TO WWW.FALDP.ORG