Members & Friends:



The FALDP Docket
Volume 04; Issue 8
August 2014
---
Members and Friends
---
This free newsletter is published every month for the benefit of FALDP members, legal document preparers, and friends.
---
Announcements
---
Conference Update
Fifth Annual FALDP Conference ~ Members Only
(If you're not a member yet - there's still time to join.)
LET'S GO!!!!
Conference Update - This year's conference is going to be the best ever. First, let me say that the Agenda has changed slightly and our guest speakers times have been moved around a bit. Judge Alexander will speak at 2:30; and Jennifer Milne will speak at 11:00.

Please let us know whether you are bringing a guest. We want to include as many attendees as possible and may have to limit the bringing of guests for late registrants as we get closer to the conference date. If you've already told us you're bringing a guest, their place is secure. If you're not sure, we're not sure. So please don't leave your decision to the last minute.

For anyone who is a member of NALA, one of our new members informed me that she was given 5 Credits for attending the conference. These five credits are apparently available for all NALA members, but you need to send them a request form in advance. The Fifth Annual FALDP Conference will be held this September 13 in Daytona Beach, Florida at the Fountain Beach Resort - DB. Information about our Fifth Annual Conference has been updated. We are continuing to update as plans continue to solidify. Our conference will be held on September 13 in Daytona Beach, at the Fountain Beach Resort. The conference fee is $75. and we are once again offering specials which include the conference fee. Lunch is included at no charge. Accommodations at the resort start at only $49 per night. Once you pay the conference fee or complete the registration form you'll receive the promo code for your discounted accommodation rate. If you don't see the promo code, can't find it, lost it, or forgot it -- call or email - 800-515-0496 - staff@faldp.org.



Conference details are posted on our site as well. We expect to have plenty of space this year so that each attendee can bring a guest. So please bring a prospective member, your spouse, a friend, or a family member. If you can get away and come to Daytona Beach for a few days -- come on! September in Daytona Beach is off season. After Labor Day and before any events, and early enough to still be beach weather.
---
Conference Agenda
---
Updated
9:00 - Ruth Tick, Director - Introduce the Day; FALDP Mission;
Morning Break
10:00 - Guest Speaker - Frank S. Adamo, author and motivational speaker -"Discover the 3 Top Secrets to Smartly Achieve your Goals,"   - followed by discussion
11:00 - Guest Speaker - Jennifer Milne, Esquire "Pro Se Empowerment ... The Thing That Keeps Attorneys Up at Night"
12:00 - Lunch - provided by FALDP
1:00 - Ruth Tick - Guided Discussion - Serving the Under Served and Finding your Niche in the Marketplace
2:30 - Guest Speaker - Circuit Court Judge John Alexander, Seventh Circuit Administrative Judge who oversees family court judge in the Seventh Judicial Circuit ~ "What Florida family law judges want pro se litigants to know."
 Break
3:00 - Ruth Tick - A Look Ahead - New Developments, Opportunities, and Courses>br> 4:00 - Awards, Prizes and Giveaways
FALDP Trivia
Business card drawing
Who traveled the farthest prize
Member of the year award
Essay contest
And more!

Prizes and giveaways include T-Shirts, mouse pads, FALDP Self-Help Guides, annual membership fee waived, free online course, and a website slide show.

 
Essay Contest - Winner to be announced at the conference. Deadline is Saturday, September 6. Any member can participate. The title is: "I Helped". We want to know how you helped a customer, changed a life for the better, contributed in your own way through your work and your business. 500-750 words. Your essay will be printed in our newsletter, on our site, or on our blog, with your byline of course. And ... the prize ... is ... one year free membership in FALDP. That's right, next June 1, the winner's membership will renew automatically. So let's get writing! There's not much time.
---
Conference Fee $75
(Conference Fee Only)
---
Amazing Summer Specials
---
1. Conference fee and membership fee included with any three course bundle or greater. Mix and match the courses you want to take to maximize your savings. Tuition for the three course bundle is $459. with automatic savings on the price for each course. With this Amazing Summer Special - save even more. You save the $75. conference fee + the $75. membership fee and also save on the courses.



For more information about the Course Bundles please visit our course bundles page.

2. Conference fee and membership fee - only $125.
Conference Fee + Membership $125
---
Free Speech & UPL
---
People give each other legal advice all the time. The fact that legal advice is given by an attorney, does not of itself ensure that the advice is valid, correct, or good – only that it is legal advice given by a legal professional. In my opinion, bad legal advice, given by an attorney is more damaging to a consumer than bad legal advice given by someone who is not an attorney. Just sayin'.

When people call, I try to say within the first 60 seconds that I am not an attorney, and do not provide legal advice. I say "I try" because sometimes it is difficult to get a word in edgewise, callers are so happy to reach a real live person. After acknowledging they know I'm not an attorney, callers often say they have a question or they are looking for a certain legal form. I tell them I'll answer their question if I can, and I direct them to the form if I have it or know where they can find it. I am not required to be an attorney to give people legal information. Information is fact. Fact based, not opinion based – value judgments and opinion not included. Advice, however, is often given in normative statements – look for the words "should" and "ought".

For example, a woman calls through the website and says that her grandson is not being well taken care of by his parents. I have already informed this woman that I am not an attorney. Still is she asking me what she should do? She might be, so I don't. Instead I ask her what she wants to do. She has choices. Depending on the degree of neglect, she may want to have a sit down heart to heart with the parents; or report the parents to the Department of Children and Families (DCF); or call law enforcement; or file for Temporary Custody by an Extended Family Member; or petition to adopt her grandson. I don't know what grandma wants to do, and I don't tell her what I think she should do. She has to decide that for herself. I tell her what others have done. I tell her what procedures exist.

I don't know whether the Florida Bar agrees with me. I don't know whether the Florida Bar agrees that I can explain to this caller what procedures and resources are possible. Am I practicing law if I tell the caller her options? Without ever saying "you should do this" or "you should do that" according to the Florida Bar's way of thinking, I may be giving legal advice. HUH? I know it sounds silly, but this is Florida, and the unauthorized practice of law is nothing to play with. It is criminalized to the point of being a third degree felony – right up there with: (Ready?)



Grand Theft
Grand Theft Auto
Cocaine Possession
Possession of a Controlled Substance
Burglary of an Occupied Structure
Marijuana – Sales, Delivery, or Manufacture
Uttering a Forged Instrument
Child Neglect



And the penalties may be up to five years in prison and up to $5000. All possible simply for saying to that lady on the phone – Dang, you should adopt that kid!



First published on http://f-a-l-d-p.blogspot.com
---
Reminders ...
---
Members Photo Gallery is a work in progress on the Membership Directory. If your picture isn't there or if you have an updated photo, please send it. A passport style portrait is best, but we can crop if you need us to. Member's photos will be linked to the member's mini-page on our site.



Favorite Quote - Do you have a favorite quote that sums up you or your philosophy? Or a quote that you like for its humor, wisdom, or insight? Send us your favorite quote and we'll add it under your picture on our site in the Member's Photo Gallery. And remember ...



Google Map - We have temporarily removed the Google Map from the Member's Directory so that we can update it. In the coming weeks, Julian will be contacting members to confirm that the information we have is correct. The information for the Google Map should include your business name, phone, and email; a scan of your business card (if available), your logo, and a link to your website.

Don't forget to renew your virtual provider listing ... Virtual Providers is a new page on the left side navigation column. The informational page for virtual providers, (how to become a virtual provider) was receiving so much traffic, we thought we'd better make a separate page for consumers. The Virtual Provider designation is an upgrade to your membership, and only costs $30 per year. Your virtual provider listing appears in 66 of Florida's 67 counties. (We omit Miami-Dade.)
---
Turn Key Business Bundles
---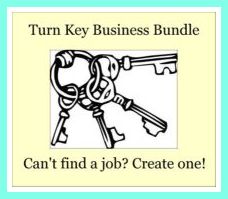 Can't find a job? Create one. America was founded by small business owners. Small businesses continue to dominate.




We now offer three different Turn Key Business bundles. Any of them is still only $499. And each of them offers slightly different business tools.


Turn Key Classic

The Turn Key Class is our tried and true bundle of business services and products to help you get started in your own document preparation business. This business bundle is a great fit for document preparers with limited experience who need help with business basics, training, and a professional website.


Turn Key Basic


The Turn Key Basic Bundle is geared towards document preparers who have some document preparation experience as a paralegal or academic training. The Basic Bundle focuses on the business side of document preparation.


Turn Key Pro


The Turn Key Pro Business bundle helps you take your business to the next level. We include two courses so that document preparers can expand services and create new income streams.


staff@faldp.org or 800-515-0496
---
Ask the Members
---
We invite members, document preparers, and friends to answer the questions posted on our "Ask the Members" page. Please answer the question in a way that might provide valuable information to whomever is looking for similar information. Include a source for your information, such as a case or statute. Make sure that your answers are more than one line. A paragraph of at least three sentences is good. And, members are invited to include their contact information and website. If you have answered questions that were never posted, it may be because your answer was too short or did not include a source for your information.
---
Asked and Answered
---
We created a series of Asked and Answered pages which organize the consumer questions and answers by topic. There are hundreds of questions which have been asked and answered in the past four years, and this is our attempt to make the information more accessible for consumers. Too much information or disorganized information is almost as bad as no information.
---
Member's Announcements & Contributions
---
We accept member's announcements and appreciate your contributions. If you have an announcement about your business, an expansion of services, moving your offices, or winning awards, please send us the information and we'll include it in our newsletter. Your announcement needs to be pertinent to your business, we are unable to include announcements about other trade associations, clubs or groups.

If you would like to write an article, editorial, opinion piece, or web page please let us know. We are always in need of fresh information and insights.
---
Don't have a site yet? Try Site Sell
---
Site Sell Link you'll open yourself to whole world of possibilities. Many business people struggle with web marketing, SEO, rankings, analytics, and advertising. SBI does most of the work for you. Give it a go - you won't be disappointed.
---
FALDP Contact Information:
Main number – (941)237-0951
Toll free - (800)515-0496
Email – staff@faldp.org



PLEASE LINK YOUR SITE TO WWW.FALDP.ORG