The FALDP Docket
Volume 4; Issue 11
November 2013
---
Members and Friends
---
This free newsletter is published every month for the benefit of FALDP members, legal document preparers, and friends.
---
Announcements
---
New Class - Debt Defense
The instructional design for our newest course offering - Debt Defense - is almost complete. It includes information and form samples for answering a civil law suit for payment of a debt. Also included is a download of our ebook - "You've Been Sued!" We project the regular tuition amount for this course to be $175. and plan to host a webinar to introduce it, tentatively scheduled for Saturday, December 7. Please keep an eye out for your webinar invitation.
---

Marketing Exercise

---
In sales and marketing parlance, every business needs to have a unique value proposition. This is a complicated way of saying, what is your niche in the marketplace? What makes your company special and different?

Answer the following questions for your business:

What problem does your business solve for a prospective customer? How does your business solve the problem better than other options? What policies, practices, or procedures do you have in place, that makes your business better? Why should your prospective customer believe you?

Let's try an example. I love Overstock and shop there all the time. Why? They solve the problem that online shopping can be hard because you can't see and touch before you buy. By offering hands-down the best customer service (online shopping experience, staff who answer questions, free shipping, fast delivery, return policy), they make it easy to deliver exactly what I want -- guaranteed good shopping results. Try this out on yourself. It's more difficult than it looks. These questions cut to the quick of who you are and what you offer. They will uncover much about you, your product or your cause. It's an existential exercise, and it will reveal if you have a winning case or a weak value proposition. Either way, you'll be stronger for the experience.
---

TIPS FOR BUILDING REFERRALS

---
• Identify specific businesses that target a similar customers, but with a different service.
• Create a list of business owners you know in who target similar customers and interview them.
• Ask them the criteria they use in making referrals and what they would like in return.
• Set up a tracking system as part of your customer intake file and then review on a quarterly basis where those leads came from.
• Reward your referral sources with a card, bottle of wine, tickets to a game,etc.
• Don't rely on random referrals. You cannot build a financially successful document preparation business with random referrals. You need people you can count on who consistently send you highly qualified leads. Your business is too valuable to be left in the hands of random acts of fate.
• Identify your primary sources of current and potential referrals. Be sure you know who is currently sending you referrals and thank them and then look for the best possible sources for new referrals and cultivate those relationships.
• Create a system for connecting with current and potential referral sources on a consistent basis. You can either wait half your career to build enough relationships with referral sources to fill your practice or you can intentionally take specific steps to create powerful win-win relationships with dozens of referral sources.

---
Designation Badges - Virtual Provider
---
As you may have noticed we have developed several designation badges that may appear on your Mini-Page. The badges coincide with the document preparation services you advertise -- Family Matters, Bankruptcy Help, Landlord/Tenant, Bankruptcy Help, Mediation, Estate Planning, Probate, Immigration, and Translation. These icons are placed on members' Mini-Pages and linked to a page listing document preparers who prepare each type of document. Most of these badges cost you nothing. We have a new badge that you can display on your mini-page - Virtual Provider. If you do business statewide as a virtual document preparer, you can display your listing throughout the state. This is a pilot program which we are offering for a limited time for only $30 annually.


If you're interested in offering your services throughout the state, visit our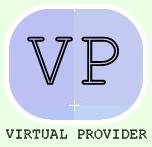 Virtual Provider page. The annual fee to advertise as a Virtual Provider is only $30 and is available for Premium Members in good standing.


Buy Now - Only $30.
---

We Now Offer Website Design, Site Maintenance, and Content Editing or Content Creation
---
Turn Key Bundle Owners are entitled to a website as a part of their bundle. We build a custom site using the content provided, then hand over the log in and password to the Turn Key Owner. Visit our Website Design page. Or you can find it under Doc Preparers Resources on our site. We include site coaching sessions so that Turn Key Owners can learn how to make site updates and changes. However, we know that not everyone feels comfortable with site building, so we are now offering design services. We will take care of the site maintenance and make updates as requested. We will even build a completely new site for members who are not Turn Key Owners; or Turn Key Owners who need a second website.
---
Member's Announcements & Contributions
---
We accept member's announcements and appreciate your contributions. If you have an announcement about your business, an expansion of services, moving your offices, or winning awards, please send us the information and we'll include it in our newsletter. Your announcement needs to be pertinent to your business, we are unable to include announcements about other trade associations, clubs or groups.

If you would like to write an article, editorial, opinion piece, or web page please let us know. We are always in need of fresh information and insights.
---
Don't have a site yet? Try Site Sell
---
Site Sell Link you'll open yourself to whole world of possibilities. Many business people struggle with web marketing, SEO, rankings, analytics, and advertising. SBI does most of the work for you. Give it a go - you won't be disappointed.
---
FALDP Contact Information:
Main number – (941)237-0951
Toll free - (800)515-0496
Email – staff@faldp.org



PLEASE LINK YOUR SITE TO WWW.FALDP.ORG