The FALDP Docket
Volume 4; Issue 4
April 2013
---
Members and Friends
---
This free newsletter is published every month for the benefit of FALDP members, legal document preparers, and friends.
---
Announcements
---
Time to Renew
All memberships renew on June 1. New members who join in April or May do not need to renew until June 1, 2014. We no longer offer Basic Membership -- there is now only one tier of membership. The membership fee is $65.

Free ID Card With All New or Renewal Memberships Through June 30 Starting July 1, ID Cards will be $4.99. This includes new or replacement cards. The FALDP ID Card comes laminated with your picture displayed, FALDP logo, a plastic holder, and a lanyard.
---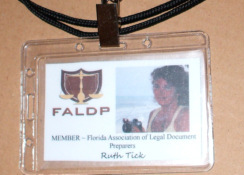 Check out our new FALDP Products page. FALDP ID cards - free with every membership paid for anytime between now and June 30.
---
Happy Birthday to FALDP!
---
We're going to be three years old on May 7, 2013. We founded this association and started this site in May 2010, and, as they say, the rest is history. Join us in our birthday festivities -

- FALDP May 7, 2010 - In honor of our third birthday, we're having a party. All members are invited. All virtual of course. There will be contests, prizes, and giveaways. More details to follow. But, for an example... we're giving away one free membership to the winner of our website contest, and more prizes to the winners of our essay contests.



Website Contest – We aren't looking for the flashiest design, although we like good design. And we're not expecting Pullitzer prize quality prose – although we would love to find it. Here is what we're looking for, and how the judges will grade your site:



Content – interesting and engaging articles and information

Design – it needs to be well organized, easy to navigate, and pleasant to look at

Linked to FALDP – we hope each of you is linked to our site

UPL free – no red flags

FALDP logo displayed prominently



UP to 20 points each is awarded. The specific value is at the judges' discretion. The judges are outside associates who do not know any of our members (except for me and Julian Beyer). My site – www.for-the-people-of-florida.com and Julian's site – www.julianslegaldocprep.com are excluded from the contest. Winners will be announced on May 7 at our online birthday party.



We Sweetened the Prizes! And Added More Contests!

We're having contests, prizes, and giveaways in honor of our Third Birthday Celebration - May 7, 2013.

Two essay competitions, each with two topics, one category for document preparers, and one for customers. So forward this to your customers, they may be able to win a $40!

Essay Competition - Document Preparers Only - Why I love FALDP. Or - How FALDP Transformed my Business. Winner receives one year free membership in FALDP.


500 words or less

Original quality writing

Personal experience

Permission to re-print on our site or in our newsletter (with author's credit -- of course!)


Essay Competition - Customers Only - My Pro Se Story - Or - How a Document Preparer Helped Me. Winner receives a $40 Visa Gift Card.

500 words or less

Original quality writing

Personal experience

Permission to re-print on our site or in our newsletter (with author's credit -- of course!)



FALDP Acronym - What does FALDP stand for? Besides the Florida Association of Legal Document Preparers. We thought of Freedom Always Lets Democracy Proceed. Brainstorm it. Up to five entries per member. Winner receives a FALDP Tote as seen on our Products Page.
---
Fourth Annual FALDP Conference
---
The date is set – September 21, 2013. The place is Cedar Key in the meeting room of the historic library. More details: We have already announced our Fourth Annual FALDP Conference. And we will continue to add details as we go. It will be held on September 21, 2013 in lovely Cedar Key, Florida. Cedar Key in located on the Gulf Coast, at approximately the same latitude as Ocala. We are holding our meeting in the Historic Cedar Key Library Meeting Room. It is my understanding that the meeting room is upstairs and I don't know whether there is an elevator. If you have trouble with stairs; or need more information we can contact City Hall to find out. There is space for 80, attending members are invited to bring a guest at no additional charge. Hours are 9-5.



9:00 - Meet & Greet. Director, Ruth Tick will introduce the day, herself, and ask each member to introduce him or herself.
10:00 - Guided Discussion - We Are Changing the World.
11:00 - Guest Speaker - "Nothing Happens until Somebody Sells Something"
-

Entrepreneurship
-
Growing your business
-
Customer service
-
Finding customers and keeping them
-
Sell is not a four letter word

12:00 - Lunch - It's on us.
1:00 - The Perils of UPL - and How to Avoid Them - Guided Discussion and Q&A
2:00 - Guest Speaker - "Teach Your Customers How To Handle Themselves in Court"
-
Courtroom procedure
-
What to expect from the judge, attorney, bailiff, and court staff
-
How to Present Facts and Evidence
-
How to Persuade through Legal Argument
3:00 - Doing Business in the Digital Age - Building a Better Website
4:00 - End of the Day Prizes, Contests, and Giveaways
-
Prizes - Who traveled the farthest? Who has attended the most conferences? And more ...
-
FALDP Trivia - Questions like - When was FALDP founded? What is the name of our newsletter? How many online courses do we offer? Prizes for knowing the minutiae of our association!
More information to come. Please look for updates on our site and in our monthly newsletter.



For the first time we're offering new and renewing members the opportunity to combine their membership fee with the fee for the annual conference. For only $99. members can pay their initial fee to join or renew their membership -- and attend the Fourth Annual FALDP Conference. A savings of $41. Please complete the Membership Form even if you are a renewing member. This is the best way to keep our files updated. This represents a $41.00 savings.
---

Ebony and Atreiyo
---
Ebony and her son's father were never married. Atreiyo was only 16 weeks old when his father took him without Ebony's consent. Although Ebony immediately called law enforcement they did nothing. They told her it was a civil matter. She tried to pursue, but lacking funds and having two other children to care for she was unable to get very far at the time. It has been over three years since Atreiyo was taken. Ebony says -
"... I have cried begged and pleaded with law enforcement to help me find my son and in return I was told that there was nothing they could do, but yet I have been told that what was done to me was a criminal offense..."
If you can help by donating any amount, Ebony would be forever grateful. Please read the rest of Ebony's story on our blog - Legal Sunshine Stories of injustice are all too common. It is the responsibility of each one of us to stand up and speak. To do all we can personally do to right the wrongs before us.
---
Member's Announcements & Contributions
---
We accept member's announcements and appreciate your contributions. If you have an announcement about your business, an expansion of services, moving your offices, or winning awards, please send us the information and we'll include it in our newsletter. Your announcement needs to be pertinent to your business, we are unable to include announcements about other trade associations, clubs or groups.

If you would like to write an article, editorial, opinion piece, or web page please let us know. We are always in need of fresh information and insights.
---
Marketing for Your Business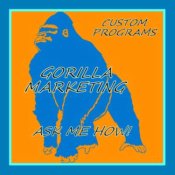 Online marketing and ad placement for your legal document preparation company or any other product or service that you offer.
---
Don't have a site yet? Try Site Sell
---
Site Sell Link you'll open yourself to whole world of possibilities. Many business people struggle with web marketing, SEO, rankings, analytics, and advertising. SBI does most of the work for you. Give it a go - you won't be disappointed.
---
FALDP Contact Information:
Main number – (941)237-0951
Toll free - (800)515-0496
Email – staff@faldp.org



PLEASE LINK YOUR SITE TO WWW.FALDP.ORG