Members & Friends:



The FALDP Docket
Volume 5 - Issue 10 - 2015
October 2015
---
Members and Friends
---
This free newsletter is published every month for the benefit of FALDP members, legal document preparers, and friends.
---
Announcements
---
Sixth Annual Conference Re-Cap
Our Sixth Annual Conference in Daytona Beach exceeded our expectations. The speakers came through and provided us with inspirational information. Please visit our Conference Info Page and Annual Conference Page to watch the videos and read about the takeaways. Among the prize winners were:


Ketty Rodriguez - Member of the Year for her hard work and assistance as Lee County Ambassador and taking on the role of Hispanic Outreach Coordinator

Vanity Barr-Little - Road Warrior for traveling the farthest to attend the conference. Vanity had joined FALDP just prior to the conference and relocated from Alaska to the Tampa area

Tom Conroy & Markene Henry Attended the Most Conferences having only missed one in the past six years


FALDP Certification Logo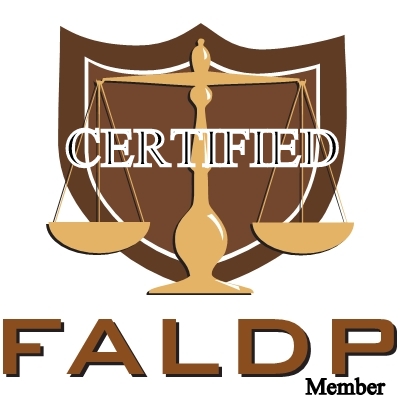 Conference attendees were asked to vote on a logo design for certification. The design above was the clear winner, but its not yet final. We're still working on improving the design, as we believe it is still not quite right.
Florida Prosperity Partnership
FALDP joined the Florida Prosperity Partnership (FPP) as a corporate member after Lars Gilberts discussed the group during his conference presentation. The FPP offers a wealth of information and networking opportunities for our members, as we serve a similar demographic. The FPP is offering a webinar on Wednesday October 21 about the pitfalls and remedies for people who are caught up in the cycle of Pay Day Loans. And the FPP is also offering a series of Town Hall Meetings throughout the state. Please check their site for an event near you. The Town Hall meetings are free, but require advance registration.
---
FALDP LDP Certification
The page explaining the basics of certification is already on the site - visit: FALDP Certification
The main purpose of the certification process is to elevate the standards in our industry. We hope to encourage greater credibility for our members. FALDP members having chosen to be members and also becoming certified as legal document preparers will show the world that each of you is serious about your profession and invested in doing the best possible job for your customers.



FALDP members who seek certification must demonstrate knowledge of and mastery of basic skills including:



Understanding legal terminology;

Understanding the rules surrounding the unauthorized practice of law;

Understanding of business ethics; best practices; and customer service;

Above average proficiency in written and spoken English.

Members may demonstrate their knowledge and mastery of the information and skills by passing a written test; passing an oral test; and submitting written essay(s).


In addition to demonstrating mastery of basic knowledge and skills members must also demonstrate knowledge and mastery of at least one focus area. At this time we recognize the following three focus areas:


Family law document preparation;

Immigration document preparation;

Probate & Estates - Summary Administration of Estate; Wills; Living Trusts

Business - Corporations and Limited Liability Companies; Landlord/Tenant; Small Claims to Circuit Civil
Criminal - Early Termination of Probation; Expunge & Seal;
Restoration of Civil Rights

Bankruptcy petition preparation.


Members can demonstrate mastery and knowledge of a focus area by passing a written test.

In addition to completing the requirements for the Basic Skills and Knowledge component; and the Focus Area component; certification requires ten CEUs per year. There are multiple ways to fulfill the CEU requirement:


Completing online FALDP courses; [each course is assigned a CEU value of 1-4]

Participation in FALDP webinars; [each webinar is valued at 1 CEU]

Attendance at the Annual FALDP Conference; [ attendance is valued at 5 CEUs

Submitting essays suitable for FALDP site content or guest blog; [CEU value varies depending on length, suitability, and complexity]

FALDP Ambassador activities [CEU value varies]

Locating, preparing, providing, and sharing form templates for other FALDP members general use;[CEU value varies]

Mentoring other FALDP members [1 CEU per hour]

Related outreach and educational participation outside of FALDP [CEU value to be determined on case by case basis]

Related outreach and educational participation within FALDP for the benefit of other members, which could include course creation; translations; and other activities which a member may propose.




There is no cost to FALDP Certification at this time. Exams will be free and online. Study materials will be made available in October/ November. Exams will be available in February/ March.
---
Site Updates
New Members Only Area
Free courses for members

Study materials for Basic Knowledge and Skills Test

We need your local forms so that we can make them available to other members, we have not opened that area yet, because we need to flesh it out

Members passwords were emailed out. If you did not receive your password, please email us - staff@faldp.org
Relaunch - Site Design
We are relaunching our site design site - Horizon Research Network - relaunch and invite you to take a look. It is still a work in progress, and we will be expanding the content and services very soon. If you do not have a website - we can help. In 2015, trying to run a business without a website is like trying to stay dry with no roof on your house. Let's build that roof!
FALDP Members' Circle
The Members' Circle Program is a rewards and recruiting program combined. Current members are invited to recruit document preparers to join us. For this effort you will be rewarded in two ways. First, for each new member you recruit, you'll receive one Continuing Education Unit (CEU) to be applied towards your certification. Second, when you recruit three members your next membership fee will be waived.


You can find complete information about our new Members' Circle Program within the Members Only area on our site.
Webinar
An FALDP Members Webinar is schedule for October 24 @ 11:00 a.m. about Florida Family Adoptions. Invitations have been sent. If you have not received your invitation, which comes from anymeeting.com (after checking your spam box), please contact us so that we can resend your invitation. We are planning to launch a new online course - Florida Family Adoptions - hoping to release it the first of November. November is National Adoption Month
Easy CEUs
The first three members who post an answer to one of the questions on the "Ask the Members" forum will receive one CEU to be applied toward certification. You can answer any of the questions, please remember to cite a source for your information. You may include your contact information along with providing a helpful answer.



The first three members who post an answer to one of the questions on the "Member's Corner" forum will also receive one CEU. The questions have not been posted yet, but will be posted by the weekend.
Infringement Update
Thank you for your responses to my request for help in documenting the infringement of our FALDP logo. As of 10/14 he had not been served. Please let us know of any document preparer you believe may be using our logo without being a member.
---
Virtual Providers
The Virtual Provider designation is an upgrade to your membership. For just $30 annually your information and services can be displayed in 66 of the 67 Florida counties. We exclude Miami-Dade because of their local form requirement, and the difficulty in serving consumers virtually there. If your business model includes assisting consumers over the phone and over the internet, advertising your services as a virtual provider will expand your reach and increase your income. Become a Virtual Provider here.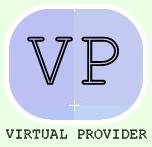 ---
---
Member's Announcements & Contributions
---
Have something to share?
---
We accept member's announcements and appreciate your contributions. If you have an announcement about your business, an expansion of services, moving your offices, or winning awards, please send us the information and we'll include it in our newsletter. Your announcement needs to be pertinent to your business, we are unable to include announcements about other trade associations, clubs or groups.

If you would like to write an article, editorial, opinion piece, or web page please let us know. We are always in need of fresh information and insights.
---
Don't have a site yet? Try Site Sell
---
Site Sell Link you'll open yourself to whole world of possibilities. Many business people struggle with web marketing, SEO, rankings, analytics, and advertising. SBI does most of the work for you. Give it a go - you won't be disappointed.
---
FALDP Contact Information:
Main number – (941)237-0951
Toll free - (800)515-0496
Email – staff@faldp.org



PLEASE LINK YOUR SITE TO WWW.FALDP.ORG