Members & Friends:



The FALDP Docket
Volume 6 - Issue 9 - 2016
September 2016
---
Members and Friends
---
This free newsletter is published every month for the benefit of FALDP members, legal document preparers, and friends.
---
Announcements
---
Conference 2016 - 7th Annual Conference
Let's Go!!!!!!!!!!!
Only 9 days to go ...
We're still working on last minute details, and still have seats for anyone who wants to go and has not yet registered. We will accept payment at the door from current members, although we prefer advance registration. If you are a new member, you must register in advance.



We're looking forward to returning to the Fountain Beach Resort - DB for our Seventh Annual FALDP Conference. Set for September 24, 2016 - All Day Saturday. Accommodation rates for attendees at the Fountain Beach Resort is only $59 or $69 per night. You will receive the accommodation discount codes after registering for the conference and submitting payment for the conference fee.



Conference Attendees - if you are checking in at the Fountain Beach Resort the night before on 9/23 and plan to be out and about and around the pool deck, please wear your FALDP T-shirt if you have one. I think it will be nice sight to see!



... The Day After ... this year, the day after the conference, Sunday 8/25, we're encouraging attendees to join us for breakfast/ brunch at Crabby Joes on the Sun Glow Pier. It's a nice family friendly atmosphere, very much a Florida feeling type place, tasty inexpensive breakfast, and a great view. Crabby Joe's is a straight shot south on A1A from the Fountain Beach Resort, just south of Dunlawton. Located at 3701 South Atlantic Ave., Daytona Beach. So, if you're staying over on Saturday or local to the area, please plan on joining us for the day after breakfast.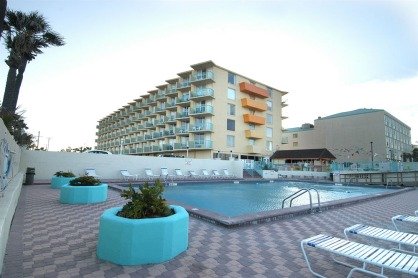 Conference + Membership = $170
---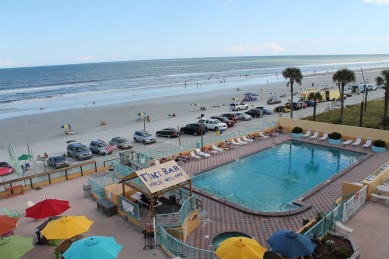 Pay For Conference Only - $95
If you have already renewed your membership, or are a new member with no need to renew, you can pay for the conference by itself. The conference fee is $95. If you are paying here for the conference only, please go to our conference page and also register for the conference. This helps us keep track of how many seats we have available, when to stop allowing attendees to bring a guest for free, and helps us know how much to order for lunch. You can pay for that here.


Conference Fee Only - $95 -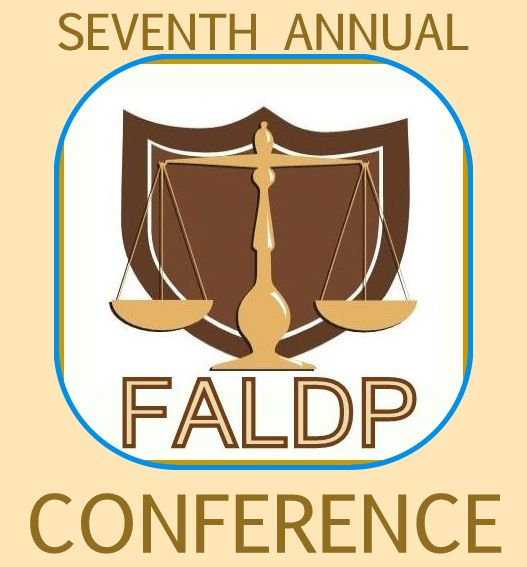 Conference Agenda
9:00 Ruth Tick, Introduce the Day - The BIG QUESTION FOR THE DAY: How can the Florida Bar investigate the unauthorized practice of law when the "practice of law" has never been defined?


10:00 Chardo Richardson, President of Central Florida ACLU - "The Big Picture" - What do teeth whitening technicians and legal document preparers have in common? Freedom of speech, right to privacy, and other issues that affect us all.


11:00 Sheila Smith - "My Journey ... Fighting Allegations of UPL" - Although Sheila did nothing wrong, it was several months before the Florida Bar's UPL investigation was finally dismissed. Sheila was required to completely change her website to eradicate the word "legal" throughout, and also to change her business name.


12:00 Lunch - Provided by FALDP - Subs, sodas, wraps, waters, snacks


1:00 Ruth Tick - "UPL Investigations - Techniques and Procedure" Exactly what will trigger an investigation?Why is there an investigation when no one complained? How can I tell if I'm being shopped? How can I avoid an investigation in the first place?


2:00 Howard Alterman, Esquire "UPL - Do's, Don't's and Surviving a UPL Investigation"  Steps to take after receiving the letter from the Florida Bar. Is it time to hire a lawyer? Can they really subpoena all my documents? What if I refuse to comply?


3:00 Ruth Tick - "Overview of UPL Cases" From Rosemary Furman and Serena Dunn in the 1980s to Nancy Grant in the early 2000s to present day UPL investigations. Ruth invites members to share their UPL story.
4:00 Ruth Tick - Wrap Up, Awards, Prizes, Giveaways - Prizes and giveaways include Tote Bags, mouse pads, and Pro Se Self-Help Guides. We give prizes for:

*Member of the Year
*Road Warrior - who traveled farthest to attend our conference
*Business Card Drawing
*FALDP Trivia - answer questions about FALDP history and benefits to win a prize

---
Conference/ Course Specials
1. ANY three course or more bundle includes the conference fee - receive a 20% discount on each course AND the $95 conference fee is waived. Available for new or current members. Potential savings up to $256!



Learn more about our course bundles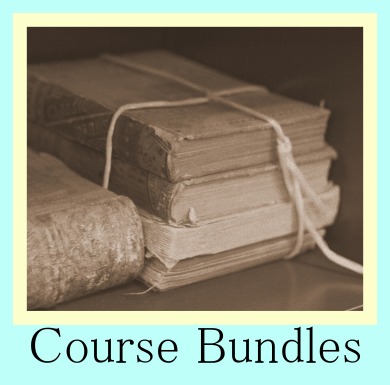 here. Another savings option is:



2. Any three courses for a flat rate - $499. purchased by September 20, 2016. Also includes the $95. conference fee. Available to new and current members. [$75 membership fee also included] Potential savings up to $556!



3. Or choose a Turn Key Business Bundle. Conference fee waived with purchase of a Turn Key Business Bundle through September 23! Save $95. Our Turn Key Business Bundles always include the FALDP Membership fee, two online courses, and a custom website - all for only $499. Potential savings up to $533!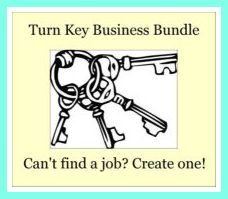 ---
Every Victory Counts
I never put down attorneys as they have enough pubic relations problems without my help. But, we know, and consumers know, that some attorneys can be way out of line in their price policies.

A couple of months ago a consumer hired me to prepare the documents for her early termination of probation. She had a private attorney at the time of her sentencing, and that attorney wanted $1500. to prepare a motion and order for early termination. The consumer had paid all her fines and costs; completed all courses and conditions; and had not been violated or re-offended. Exactly what I require when I agree to help someone with early termination. I charge $99.

Less than thirty days after filing her paperwork, she received an order signed by the judge terminating her probation over the objection of the state attorney. I don't know what their objection was, but whatever it was, it didn't persuade the judge. My customer couldn't have been more pleased.

And just last week a consumer contacted me about helping her with document preparation for Summary Administration (small probate). She had discovered that her mother had left a life insurance policy in the amount of $60,000. which apparently named the mother's estate as beneficiary. The state of Florida unclaimed funds department, (Jeff Attwater's office), had advised her that the only way the funds could be released to her was through a summary administration of estate. She had spoken with several attorneys to see about using their services. The fees requested started at $10,000. and went on up to $20,000. They all wanted a percentage of HER inheritance. My customer was extremely pleased to have found me. I charge $325. as a flat fee.

---
Upcoming Events
On February 16, 2017 FALDP will be hosting a booth at the Miami Business Expo. Ketty Rodriguez has agreed to accompany me, Ruth Tick, as I am not fluent in Spanish. And it IS in Miami. If you are a member located in Miami, please stop by and see us. And if you are not yet a member, also come by and see us. We are offering a workshop about the document preparation business, plus gifts, and prizes. More information in the next newsletter. I hope to see you there!



FALDP is a corporate member of the Florida Prosperity Partnership which is hosting an event in October. The details are:

Florida Prosperity Partnership would like to invite you to participate in our intriguing and informative 2016 Statewide Tax Convening. The event is being held from 10 am to 4 pm on October 4, 2016 at Polk State College campus  Center for Public Safety, located at 1251 Jim Keene Blvd, Winter Haven, FL 33880.
This event will provide you with an overview of the VITA (Volunteer Income Tax Assistance) program and information of some of the existing resources and tools available to successfully grow your VITA program and its outreach.  In addition, we have planned 3 breakout sessions that will allow attendees to have a facilitated discussion to share tips and best practices on topics identified through recent surveys conducted by FPP and United Way of Florida independently as the top 3 obstacles to growth facing VITA programs: volunteerism, funding and marketing. It is our hope this event will be a catalyst in joining efforts from the IRS and United Way of Florida with your agency and others like it to reach out and advocate for increased awareness, growth and usage of VITA sites in your community. 
  Paid attendees will receive a $50 coupon for the 9th Annual FPP Statewide Training Conference in 2017!
For more information, visit: http://floridaprosperitypartnership.org/event-2316708 - Cost $29.
---
Book Release
Updated Edition - Family Adoption in Florida
An updated version of our FALDP Guide, "Family Adoptions in Florida" has been released. It is available as an ebook, and will soon be available on www.lulu.com in a printed edition. Our FALDP Self-Help Guide, includes information about procedure, laws, and forms for adoptions in Florida by Grandparents, Stepparent, and other close relatives. This is an updated version as of August 2016. It is a full 102 pages, with expanded forms section, adoption scenarios, adoption checklist, and more.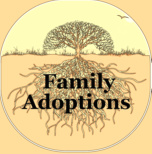 And Another Book Release!
Legal Sunshine - 15 Essays is a collection of articles and essays which were originally published on the Legal Sunshine blog. All of the essays address document preparer's issues including UPL, court access, and credibility in the marketplace. This book will be available on our site soon. And is currently available on hulu.com and other online book sellers. All essays and articles are original and written by Ruth Tick.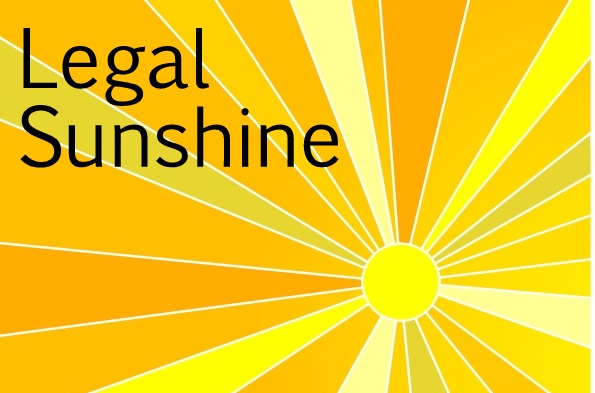 ---
FALDP Document Portal
We built a site for preparing family law documents automatically - FALDP-Document Portal

We notice that some members return every month. And some members may not realize this site exists.



All you do is enter the information once into a questionnaire and the information fills to the fields in all the forms in that packet. So far we have four of the most requested family law packets:


Dissolution with No Property and No Children

Petition for Paternity and Related Relief

Dissolution with Children

Supplemental Petition for Modification of Child Custody

Supplemental Petition for Modification of Child Support
The monthly fee for those who are not members of FALDP - consumers and document preparers alike - is $99 per month unlimited use. There is absolutely no ongoing contract. Access for FALDP members is only $25 per month unlimited use. Whether the user is a consumer and pays $99 and actually only needs one time access; or a non-member document preparer who uses the site multiple times during a month - the benefits are substantial. Any one of these document sets could take hours to prepare manually, but with our Automated Document Portal the forms are completed in minutes. The user can either print the forms immediately or save to their computer. The tools page on that site includes information about using the site; additional stand alone forms; and instructions for the form sets.


After submitting payment users receive the user name and password for the site. This login information is changed monthly at midnight on the fourth of the month. Access for the month is unlimited.
---
Monarch Web Strategies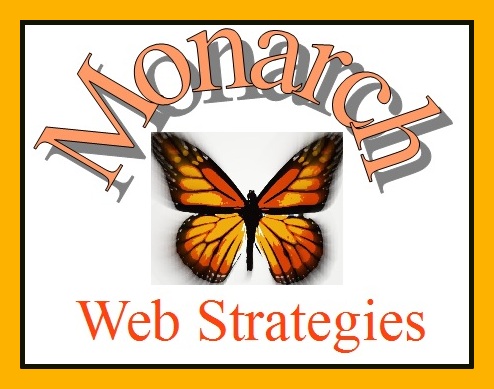 Web Strategies Marketing Program Gorilla Marketing evolved into Monarch Web Strategies. For the time being, the services are limited to ad placement for FALDP members throughout the internet for $50 per month. There is no contract and no set up fee. Monarch places your ad on free classified sites to drive traffic to your website and invite your potential customers to contact you directly for services. In the near future Monarch Web Strategies will expand their services to also include posting your information on geographic specific sites. This service is important for members who have a bricks and mortar storefront, and those who travel to meet with consumers face to face.
---
Virtual Providers
The Virtual Provider designation is an upgrade to your membership. For just $30 annually your information and services can be displayed in 66 of the 67 Florida counties. We exclude Miami-Dade because of their local form requirement, and the difficulty in serving consumers virtually there. If your business model includes assisting consumers over the phone and over the internet, advertising your services as a virtual provider will expand your reach and increase your income. Become a Virtual Provider here. If you have not renewed your virtual provider status since May 2016, its time to renew. Virtual provider status runs with membership, the time lines are the same.

VIRTUAL PROVIDER - ANNUAL FEE $30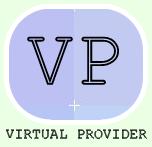 ---
More Updates
The Password to the Member's Only area changed on July 31. We sent out an email to all members the first week of August with the new password. If you missed the email or didn't receive it, please call or email and we'll be happy to provide it. staff@faldp.org or 800-515-0496



We added a new page - Conference Archives - linked to our Annual Conference page. And we added a calendar to the page you arrive at when you enter the Document Preparer's doorway on the home page of our site.
---
Member's Announcements & Contributions
Have something to share?
---
We accept member's announcements and appreciate your contributions. If you have an announcement about your business, an expansion of services, moving your offices, or winning awards, please send us the information and we'll include it in our newsletter. Your announcement needs to be pertinent to your business, we are unable to include announcements about other trade associations, clubs or groups.

If you would like to write an article, editorial, opinion piece, or web page please let us know. We are always in need of fresh information and insights.
---
Don't have a site yet? Try Site Sell
---
Site Sell Link you'll open yourself to whole world of possibilities. Many business people struggle with web marketing, SEO, rankings, analytics, and advertising. SBI does most of the work for you. Give it a go - you won't be disappointed.
---
FALDP Contact Information:
Main number – (941)237-0951
Toll free - (800)515-0496
Email – staff@faldp.org



PLEASE LINK YOUR SITE TO WWW.FALDP.ORG