The FALDP Docket
Volume 8 Issue 6; June 2018

This is our monthly newsletter. We publish this for the benefit of FALDP members, legal document preparers, and friends.


---
Announcements
---
2018 Fall Conference
Yes! We're having a second conference in 2018 ~ October 13 in Cedar Key, Florida at the Cedar Key Community Center. Please check the site for updates. So far we know that our theme is:



BUILDING BRIDGES & BREAKING BARRIERS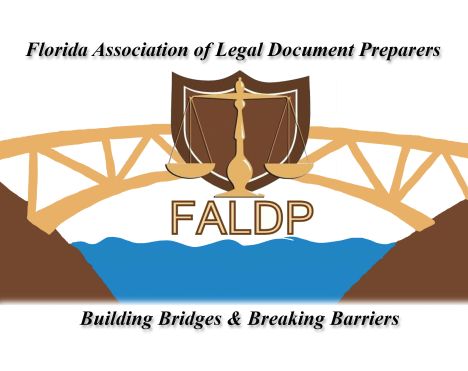 We're in the process of confirming speakers, we'll let you know more when we know more. The $95 conference fee will remain the same as previous conferences. Cedar Key is a small tourist/ fishing village on Florida's gulf coast. There are a variety of reasonably priced accommodations, ranging from less than $100 per night on up. Some are cottages that allow pets.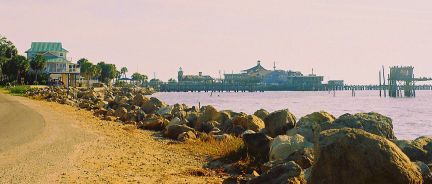 Cedar Key
---
Membership Renewal
The last day to renew your membership is July 31. On August 1, those that have not renewed will be removed from the membership roster and from our site. The "Avoid UPL!" course is mandatory for all members. We allow members to separately submit renewal payment for membership and the Avoid UPL! course.
Avoid UPL!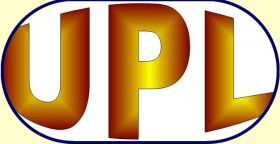 We are getting very positive feedback about this course, both for the content AND for making the course a membership requirement. We designed this course to inform document preparers about the specific rules and case law surrounding the unauthorized practice of law. Some of the rules are counter-intuitive and many people would never dream that certain things are prohibited. Members need to take the course before the renewal period ends on July 31. Please don't put us in the position of suspending your membership because you have not taken this course. Cost is $29. Course registration is inside the Members Only pages.
---
FALDP Foundation, Inc.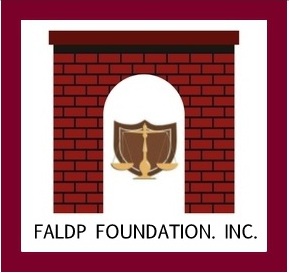 We're making progress! The Foundation funded our very first indigent consumer a few weeks ago. Member Patricia Garbo of Documents Assist updated the customer's divorce docs and provided notary services. Visit our Foundation page to learn more. And donate any amount that you are able. We offer a free T-Shirt for any donation over $10.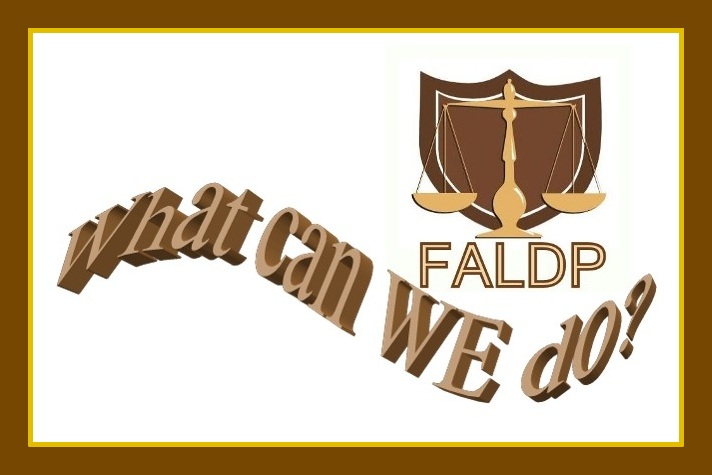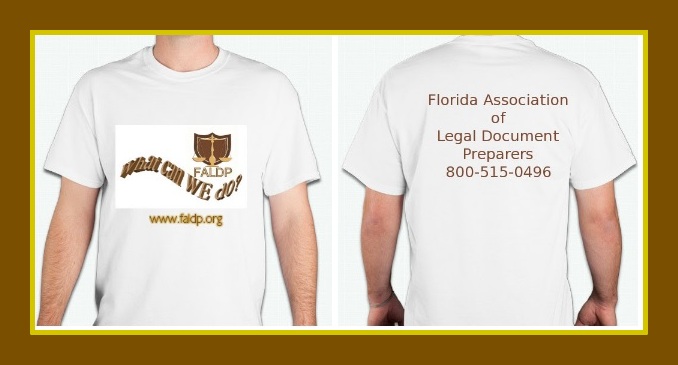 FREE T-Shirt with donation of at least $10, mailing costs included for orders within Florida. And, during the entire month of June, FALDP is donating 5% of all of our online course fees, course bundles, and Turn Key Business bundles to the FALDP Foundation, Inc. Give to a worthy cause at no additional cost to you. so, if you've been considering a course or a Turn Key Bundle, June is a good time to purchase. Help someone else, by investing in yourself.
---
Please sign and share!
FALDP published a petition asking the Florida Bar to do the following:



1. Investigate UPL when there is consumer harm. Not when there is "potential" harm.



2. If the Florida Bar demands that we follow their rules, make those rules clear, and set out in a fashion in which document preparers can easily find and refer to the rules.



3. Lighten up on the investigation of document preparers altogether. We feel we are being bullied and harassed by an entity that does not supervise us. The Florida Bar is authorized to investigate UPL, but putting document preparers out of business is counter productive all around.



4. Give us some recognition for what we do. We are part of the solution to the ongoing justice gap. Until consumers are being served fully, there is no need for us to be perceived as a threat to lawyers.



The petition would not embed in this newsletter, here is the link to the change .org petition Every signature counts. We already have over 175 signatures. Please keep signing and sharing. Here are some of the comments:

"Many people need help in the courts and cannot afford a huge retainer fee just to get any kind of justice."

"Stop beating on the little people in the business,

"Because most lawyers are greedy money hungry feet dragging blood sucking judgemental holier than thou wankers..
---
Certification Reminder
Don't forget. To earn and maintain your FALDP Certification you need to complete at least 10 CEU's per year. CEU's can be earned in a variety of ways:


Complete FALDP online courses;

Comment on FALDP videos;

Post on FALDP Facebook page;

Attend the Annual FALDP Conference;

Attend conferences and seminars related to our industry;

Answering questions on our "Ask the Members" forum;

Assist FALDP by translating web pages, answering the 800#, spotting errors on our site;

Designing and creating a fund raiser for the FALDP Foundation, Inc.

Other activities that you suggest




---
8 Tips for Screening Customers
Watch out for these red flags that your new customer may try to skip out on payment, costing you valuable time and threatening your cash flow.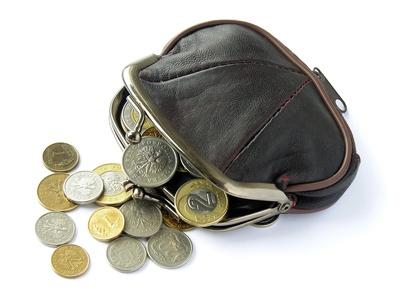 Most small business owners will come face to face with this lamentable reality at least once: Customers sometimes skirt invoice fulfillment and renege on payment.
Keep a sharp lookout from the outset of your relationship with a customer in order to protect yourself and your payments. Look out for these eight warning signs.

1. Refusal to Sign a Contract
A contract lays out the terms of your business relationship with the customer from the outset. This gives you an opportunity to set your rates and expectations in terms of payment deadlines, etc.
A contract is an extremely valuable resource that creates clarity in your relationship with the customer and, if it comes down to it, can be used to take legal action. Since having clarity on an agreement is beneficial to both parties, refusal to sign a contract is grounds for suspicion when it comes to dealing with your customers. Think twice about spending your time completing a project for someone who is unwilling to sign a simple agreement.

2. Haggling Over Rates
Similarly, make sure you settle on an hourly or flat rate before investing your own time and energy into a project. Some customers may simply be unfamiliar with market rates and express initial hesitation, so be prepared to explain the market value of your work. Customers who understand the value of your services should be willing to pay a fair price for it.
While some negotiation over pricing is a normal part of business, watch out for customers who are overly aggressive about rate haggling. That could be a sign of problems to come.


3. Using Dismissive Language
Be wary of customers who subtly undervalue your work by asking you to put together a "quick" proposal, misrepresent your role, or use careless language to devalue your input. Sometimes carelessness can be the result of lack of knowledge. That's why they hire you, the specialist, after all. But there is a difference between naivete and willful ignorance. Don't let customers underestimate your value.

4. Inability to be Responsive
If customers are slow to respond to emails (or don't respond at all), miss project deadlines or fail to return feedback in a timely manner, there's a great chance they will give your invoice a similar tardy treatment.
Communication is a basic skill, and it is necessary to the success in any relationship. Your customer relationships are no exception. If customers are slow to respond from the outset, issue a kind but firm warning. Since you've both signed a contract (you did sign a contract, right?), feel free to issue reminders about deadlines established in the contract terms.

5. Lack of Respect for Your Time
The other side of the coin is when customers are overly communicative or nitpicky about your work. If customers insist on updates or edits that stretch your time beyond a project rate, it's likely they will find something to complain about in the finished project as well, or find an excuse to  talk you down from established rates.
Customers will often value their time over yours, but be careful of getting caught in a dynamic where you privilege the customer's needs. Being responsive and meeting customer demands is part of the work. But as a small business owner or solo entrepreneur, you have every right to draw the line if you are not being compensated for additional time and effort that wasn't accounted for in the original project proposal.

6. They Won't Pay Online
This is not 1993; payment through Paypal and other online services is normal in 2018. If you have customers who resist paying online, treat that as a warning sign.
With free and accessible options available, there's no excuse for customers to refuse to pay online. The ease of online payment processing allows you to track your income and process it painlessly, and it also makes things easier on the customer. Customers who insist on paying by check or sending payment by mail may have no intention of paying you at all.

7. They Demand Delivery up Front
Most document preparation work is not like selling products. With a product, you can take it back and sell it to someone else if the buyer doesn't pay. With document preparation, however, usually that isn't an option.
So if a customer asks for delivery before payment, be wary. Sure, there might be a good reason for this request — and your trusting heart or need to keep the customer might urge you to meet this demand. But it doesn't end well. It really doesn't. So don't cave to this request, and view it as a sign that there might be payment issues ahead.
It is completely reasonable for you to delay full delivery of your completed project until you receive partial or full payment. Customers are entering into a contractual arrangement for your services. Once the customer has received your completed project, their incentive to come through with payment drops dramatically. So you are totally within your rights to retain your own property until they fulfill their half of the agreement.
Unfortunately, as a small business owner, you can't always rely on your customers. But staying staunch in your agreement is not only a necessity, it's a sign of integrity for your business that will keep valuable customers returning. Get those invoices taken care of before the project has drifted past and you find yourself swimming upstream to chase down your elusive customer.

8. Require payment in advance if your customer is in another city or county.
If you are working virtually, over the phone and over the internet, it is perfectly reasonable for you to demand payment in advance. Set a policy on this. A few customers will refuse to pay you in advance, consider this a good thing. More than likely, those are the customers that you would have to chase for payment, anyway.
---
Webinars
We plan to resume offering Member Webinars in June. Webinars were suspended due to our time constraints, but now they're back. We send the webinar invitations directly from the webinar site. We are currently using Zoom as our webinar site.
---
Virtual Providers
We posted a video within the Members Only about becoming a Virtual Provider. The Virtual Provider designation is an upgrade to your membership. For just $30 annually your information and services can be displayed in 66 of the 67 Florida counties. We exclude Miami-Dade because of their local form requirement, and the difficulty in serving consumers virtually there. If your business model includes assisting consumers over the phone and over the internet, advertising your services as a virtual provider will expand your reach and increase your income. Become a Virtual Provider here. If you have not renewed your virtual provider status since June 2017, its time to renew. Virtual provider status runs with membership, the time lines are the same. We will send invoices to current Virtual Providers in June.

VIRTUAL PROVIDER - ANNUAL FEE $30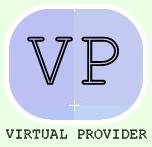 ---
Member's Announcements & Contributions
Have something to share?
We accept member's announcements and appreciate your contributions. If you have an announcement about your business, an expansion of services, moving your offices, or winning awards, please send us the information and we'll include it in our newsletter. Your announcement needs to be pertinent to your business, we are unable to include announcements about other trade associations, clubs or groups.

If you would like to write an article, editorial, opinion piece, or web page please let us know. We are always in need of fresh information and insights.
---
Don't have a site yet? Try Site Sell
---
Site Sell Link you'll open yourself to whole world of possibilities. Many business people struggle with web marketing, SEO, rankings, analytics, and advertising. SBI does most of the work for you. Give it a go - you won't be disappointed.
---
FALDP Contact Information:
Main number – (941)237-0951
Toll free - (800)515-0496
Email – staff@faldp.org



PLEASE LINK YOUR SITE TO WWW.FALDP.ORG