The Florida Association of Legal Document Preparers ~ legal document preparation services.
800-515-0496
Virtual Document Preparation Provider
The Virtual Provider designation is available for FALDP members who wish to advertise their services throughout Florida, excluding Miami-Dade. When consumers see the Virtual Provider graphic next to a membership listing, it tells them that the document preparer is available to serve them virtually throughout the state. Virtual Providers may never meet their customers face to face, but are still able to provide vital document preparation services over the phone and over the internet.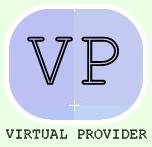 For only $30 per year, your membership information will be added to all Florida counties except for Miami-Dade. Our goal is to provide additional options to consumers; while offering additional options to our members. This designation is not for every business model, or every document preparer's personal style. If you choose to become a Virtual Provider, plan on never seeing your virtual customers face to face. Be sure that you're comfortable doing business completely over the phone and over the internet. It is perfectly reasonable to operate as a hybrid, virtual and bricks and mortar, offering some services virtually and others only face to face. As in your other membership directory listing, your virtual listing will be linked to your FALDP Mini-Page; your external website; and the Virtual Providers page.
$30.00 Virtual Provider - Annual Fee
FALDP Member Document Preparer Upgrade

The Virtual Provider Badge (VP) will be displayed with your information. A VP designation has no effect on the Google Map on the membership directory page. Please provide the copy for your Virtual Provider listing in the box below. Word limit is around 200 words. Thank you!

---
Proudly Serving the Under Served

---
Copyright 2010-2019 ~ All rights reserved.
Follow us on Facebook!
Copyright 2010-2019. All rights reserved.