Virtual Providers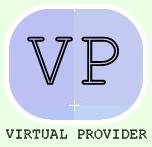 Some of our member document preparers have identified themselves as virtual providers. This means that their business model allows them to serve consumers online and over the phone, offering document preparation services throughout the state. Specific services will vary, please read their listings carefully and contact the member who lists the services that you need. You can find a list of designated Virtual Providers at the bottom of each page of the FALDP Member Directory. Please make an informed decision when choosing a legal document preparer.
Consumer Benefits
Consumers like working with Virtual Providers, and here's why:
Virtual providers have lower overhead costs, and can pass on those savings to their customers.
Working with a virtual provider is easier for most consumers, no need to go anywhere, no office to visit, no parking to deal with. Easy.
No travel for the consumer, also means that the consumer/ customer does not need to take time off work to go to an appointment. Most virtual providers are happy to schedule a phone or video chat after regular business hours, on the weekends, or even during their customer's lunch hour.
"Social distancing" is the term being used during the corona virus pandemic. By working with a virtual provider, you completely avoid unnecessary contact with others who may carry the virus.
Watch our video about Virtual Providers, so you'll know what to expect. Working with a Virtual Provider saves time and money. CLICK HERE TO WATCH THE VIDEO.
Virtual services apply to the entire state except for Miami-Dade. Many consumers seek assistance with family law documents and many document preparers offer that service. However, Miami-Dade requires pro se litigants to use local family law forms that must be purchased directly from the clerk of court. It is a difficult and cumbersome process to virtually assist consumers in Miami-Dade; and for that reason we exclude that county from virtual services. If you need family law document preparation assistance for Miami-Dade, please contact a member who is local to that area.

Copyright 2010-2020 ~ All rights reserved.
Follow us on Facebook!