The Florida Association of Legal Document Preparers ~ legal document preparation services.
800-515-0496
2019  FALDP 10th Annual Conference
Mark your calendar! This year on Saturday, September 14, 2019 we are hosting our 10th Annual FALDP Conference. We are celebrating our journey – where we started, where we are now, and where we're going – as a group, as document preparers and as business owners. The FALDP mission is a journey. We have only begun, there is much to do. We hope that the confidence gained through education and knowledge will empower consumers, so they may have a fighting chance to enforce or pursue their rights in a court of law.
It's not about the destination, but the joy of the journey.

When & Where: Our conference will be at the Fountain Beach Resort in Daytona Beach on September 14, 2019 – 9:00 – 5:00. Details of our agenda will be posted soon.
Cost - $95. for the conference.
Accommodations at the Fountain Beach Resort will be discounted to only $69. per night for conference attendees.
Pre-Conference Dinner - To mark the special occasion as our 10th Annual Conference, we're adding another event. Please come if you can. On the evening of September 13, 2019 we're inviting all conference attendees to join together for a dinner cruise on the Halifax. Cost is $29.95 per adult, discounts for children. Please visit the Dine and Cruise website for full details and to make your reservations independently.
After Party - At the Oasis Tiki Bar & Grill after the conference. The Oasis is on the pool deck of the Fountain Beach Resort where the conference will be held. One free drink for any member who comes to the After Party wearing an FALDP T-Shirt. 
In 2012 our journey had barely started. Now in 2019, we're still not there yet. There are miles to go, milestones to pass, work to be done. 
Conference + Membership = $179. Use this form if you are now joining or have not yet renewed.
After completing the registration form and submitting payment, you'll be redirected to our Membership Application.
Conference Only - $95. Use this form if you are a current member and have already renewed.
We'll post more information as we grow closer to the date. Please check back for ongoing updates here, and in our monthly newsletter. 
Conference registration is open. Please book early as space is limited. 
This is a members only conference, if you're not yet a member, don't worry - there's still time to join.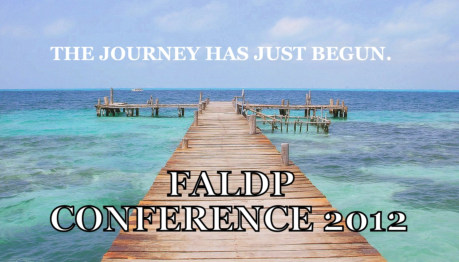 Click here to go to our Membership Page. 
Copyright 2010-2019 ~ All rights reserved.
Follow us on Facebook!
Copyright 2010-2019. All rights reserved.