Click to Call for Mobile Users - 800-515-0496
It's OFFICIAL! Our next conference - the 9th FALDP Conference - will be held on October 13 in beautiful Cedar Key, Florida. See you there!
EIGHTH ANNUAL FALDP CONFERENCE - 5/5/2018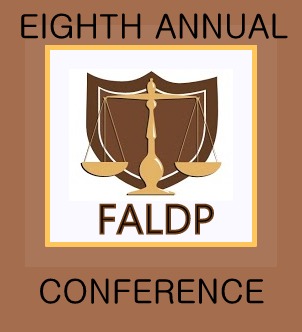 Our May 5th Conference was amazing. There was a lot of excitement, interaction and ideas bouncing off the walls. And ... we voted. We're having another conference in the fall to get our schedule back on track. So let's keep up the momentum. More information and pictures will be posted here soon. Be sure to look us up on Facebook, and be sure to read the monthly newsletter for news of this past conference and updates for the next one.

Central Theme ~ What Can We Do?
This year the central theme for our conference is: WHAT Can We Do? What CAN We Do? What Can WE Do? What Can We DO?
WHAT - The specific "what" we do is prepare documents, explain procedure, and provide legal information to Florida pro se litigants. But, we do far more.
CAN - We CAN do much more than prepare documents, explain procedure, and provide legal information. We can change people's lives in positive ways. We help people move on with their lives. A bankruptcy petition lets someone start over with a blank financial slate - debt free. A divorce helps people end a relationship gone sour. And immigration documents help people breathe easier, knowing that they are on the right path. 
WE - We are nonlawyer document preparers helping people solve their life problems by providing the prepared documents, legal information, and explanation of court and government procedures that consumers are desperate to know. 
DO - We DO all these things, all day everyday, making Florida a better place to live. The fact that we don't and cannot provide legal advice or representation is not a hindrance to the positive things that we do. 
? - What Can We Do? What else can we bring and provide that will assist Florida residents, pro se litigants, and consumers move on with their lives? Join us at the conference - we'll talk about it.
Visit our Conference Info page to read about the speakers we have scheduled for this year's conference.

Fountain Beach Resort and Conference 2018
Fountain Beach Resort from the pool deck.

Pool deck from above - right next to the World's Most Famous Beach.

Welcome FALDP!
Click here to go to: Membership Application Form and for more information about FALDP membership go to our Membership Page. 
Follow us on Facebook!