Click to Call for Mobile Users - 800-515-0496
EIGHTH ANNUAL FALDP CONFERENCE - 5/5/2018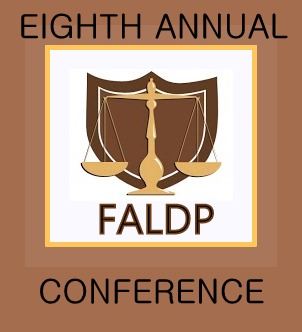 Our EIGHTH ANNUAL CONFERENCE which was originally scheduled for September 16, 2017 at the Fountain Beach Resort in Daytona Beach will take place on May 5, 2018. We had to reschedule due to Hurricane Irma. Those who already paid prior to the rescheduling and did not request a refund, will have their membership renewal fees waived. Our discounted rate for accommodations at the Fountain Beach Resort is $89. per night. Please register early as Daytona Beach is a spring break destination and availability may dwindle. For more information please call 800-515-0496.
See you there!
Only $150 - includes membership fee/ early renewal fee; Avoid UPL! course; and Conference Fee.
The fee for the all day conference is $95. The conference fee plus new membership or membership renewal is $150. The $29.00 course fee for the mandatory course - "Avoid UPL!" is waived for all conference registrants. New members please don't forget to submit a Membership Application form.The membership fee is waived with the conference registration, but we need the Membership Application for our records. 
Central Theme ~ What Can We Do?
This year the central theme for our conference is: WHAT Can We Do? What CAN We Do? What Can WE Do? What Can We DO?
WHAT - The specific "what" we do is prepare documents, explain procedure, and provide legal information to Florida pro se litigants. But, we do far more.
CAN - We CAN do much more than prepare documents, explain procedure, and provide legal information. We can change people's lives in positive ways. We help people move on with their lives. A bankruptcy petition lets someone start over with a blank financial slate - debt free. A divorce helps people end a relationship gone sour. And immigration documents help people breathe easier, knowing that they are on the right path. 
WE - We are nonlawyer document preparers helping people solve their life problems by providing the prepared documents, legal information, and explanation of court and government procedures that consumers are desperate to know. 
DO - We DO all these things, all day everyday, making Florida a better place to live. The fact that we don't and cannot provide legal advice or representation is not a hindrance to the positive things that we do. 
? - What Can We Do? What else can we bring and provide that will assist Florida residents, pro se litigants, and consumers move on with their lives? Join us at the conference - we'll talk about it.
Visit our Conference Info page to read about the speakers we have scheduled for this year's conference.

From our 7th Annual Conference ~ Last Year
Registration
Fountain Beach Resort and Conference 2018
Fountain Beach Resort from the pool deck.

Pool deck from above - right next to the World's Most Famous Beach.

Welcome FALDP!
Click here to go to: Membership Application Form and for more information about FALDP membership go to our Membership Page. 
Follow us on Facebook!