Click to Call for Mobile Users - 800-515-0496
Turn Key Business Bundles
~up to $923.00 Value~
You pay only $499.00

for either of our


Turn Key Bundles


Learn how to prepare Florida legal documents and operate a document preparation service
We now offer two Turn Key Business Bundles - Turn Key Classic and Turn Key Pro. Choose the one that best fits your business goals, experience, and expertise. Each of the bundles offers a slightly different set of business tools; and costs only $499.

We offer our Turn Key Business Bundles to motivated applicants who possess the qualities that will promote success. Drive, ambition, empathy, persistence, honesty, and attention to detail; combined with integrity, and a true moral compass. Ultimately, the key to your future is in your hands. We do our best to promote the success of our Turn Key Owners, but can make no guarantees. Are you up to the challenge?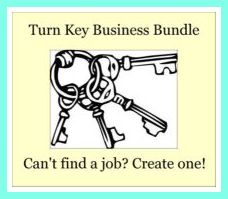 Turn Key Business Classic 


Cost $499
$957. Value
(

if each item is purchased separately

)

The Turn Key Class is our tried and true bundle of business services and products to help you get started in your own document preparation business. This business bundle is a great fit for document preparers with limited experience who need help with business basics, training, and a professional website.
Limited Liability Company, documents prepared and ready to file with the state - $99.00 Value
 One year Premium Membership into FALDP - $75.00 Value
 Online Course - Introduction to Florida Legal Document Preparation - $129.00 Value
A custom website and top-level domain - a $330.00 Value *Your custom site which we build from a template is yours to promote and maintain. We build the site structure, 4-5 pages based on the content you provide. And we will even add the initial paypal buttons. Once we have built the site, we provide you with the log in and password so that you can add content or make changes any time.
Turn Key Business Pro
Cost $499
$960. Value
(

if each item is purchased separately

)
The Turn Key Pro Business bundle helps you take your business to the next level. We include two courses so that document preparers can expand services and create new income streams.

---
---