Easy Tramites Corp
EASY TRAMITES CORP - "HELPING PEOPLE DOCUMENT'S PREPARER
Fort Myers, Florida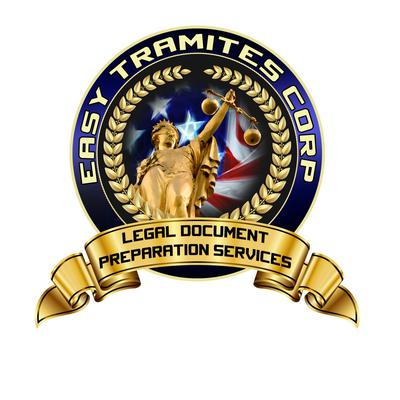 Easy Tramites Corp., provides assistance with the preparation of documents for self-represented individuals based on their factual information provided.
We are also proud and active members of the National Association of Legal Assistants-Paralegals (NALA).
Our services do not substitute for an Attorney; however, we help anyone who cannot afford attorney's cost to prepare documents that do not requires legal advice at an affordable and reasonable fee.
Our commitment is to provide high quality service to Florida residents and are continually attending appropriate training sessions, seminars, classes, and if necessary, we will refer you to quality and qualified attorneys, mediators, and counselors.
Our main office is conveniently located across to Edison Mall in Fort Myers; however, we can also assist you remotely.
Easy Tramites Corp.
Main office
1919 Courtney Drive # 10A
Fort Myers, Fl 33901
Tel: 239-257-9006
www.easytramites.com
Email: easytramitescorp@gmail.com
Weekends and nights appointments available.
---
Easy Tramites Corp., ofrece asistencia en la preparación de los documentos para los individuos que se representan a sí mismos basados en su información proporcionada . Somos orgullosos miembros activos de la Asociación Nacional de Asistentes Legales - Paralegales ( NALA ) y la Asociación de la Florida de Preparadores de Documentos Legales ( FALDP ) .
En la Florida, los preparadores de documentos legales son profesionales que prestan servicios de preparación de documentos directamente al público, y que han dedicado una parte importante de su vida y su tiempo al estudio y práctica de este tipo de trabajo . Basados en más de 20 años de experiencia trabajando en el campo legal , nuestro compromiso es brindar un servicio de alta calidad a los residentes de Lee, Collier, Dade County en la Florida.

Nuestros servicios no sustituyen a un abogado; sin embargo, podemos ayudar a cualquier persona que no puedan cubrir estos costos ayudándoles a preparar los documentos que no requieren asesoría legal a un costo accesible y razonable.

Podemos ayudarle con : Formularios de Inmigración,Apoyo Administrativo, Notarización, Traducción de documentos, Boda Ceremonia -Matrimonio, Testamento, Poderes, Divorcio, Acuerdos Maritales, Incorporaciones/Sociedades de Responsabilidad Limitada, DBAs, Documentos/Renovación de Pasaporte, y si es necesario le referiremos a abogados, mediadores y/o consejeros calificados y responsables.

Estamos convenientemente localizados en:

1919 Courtney Dr. Suite 10A

Fort Myers, Fl. 33901
239) 219-6131
www.easytramites.com
E-mail: easytramitescorp@gmail.com
---
Copyright 2010-2023 ~ All rights reserved.
Copyright 2010-2023. All rights reserved.