LEGAL INFORMATION YOU CAN TRUST AND UNDERSTAND
Legal Lifeline of FL is exactly that- A Lifeline.
Understanding that legal actions can sometimes be overwhelming as well as expensive, Legal Lifeline of FL is dedicated to providing you with Florida legal document preparation and legal information in language that you can understand. Legal Lifeline of FL can save you 40% - 70% of what an attorney would charge. This company is not a substitute for an attorney. However, if you need properly prepared legal documents or help making your court process more approachable, Legal Lifeline of FL may be the right option to meet your needs. 
My decade of experience includes proficiency in Legal research, Information management,Knowledge management and Legal research instruction. I worked directly with some in the Judiciary to establish a conduit of ideas to aid Pro Se litigants when appearing in court. These litigants were more prepared and invested in their cases when they had a solid understanding of Court Rules and etiquette. I also developed the "Lawyers in the Library" program for our Pro Se patrons to utilize for free or discounted services. My skill sets and body of work enables me to serve clients with a high level of compassionate professionalism and without judgment.
Ms. Tracey Murphy ~ Jacksonville, FL
904.233.1951
msmurphy@legallifelinefl.biz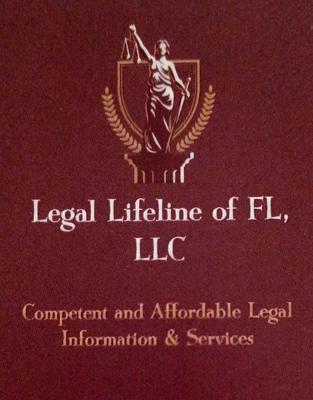 Copyright 2010-2023 ~ All rights reserved.